In order to help continue the tradition of equipping students of the dulcimer and raising up more dulcimer teachers, DulcimerCrossing.com is providing the funding for two scholarships to Kentucky Music Week, 2018. These scholarships cover the cost of classes for a young student and a dulcimer teacher who is actively teaching students. We sincerely appreciate this support from our dulcimer community.
The Phil Houghton Scholarship honors the memory of a dear person who was a regular participant at Kentucky Music Week. Phil was known by just about everyone at KMW for his big smile and red suspenders, his magic tricks and his joyous spirit. Due to his generous nature, and the generosity of his friends, this scholarship is set up to be on-going each year. It will be presented to someone who has financial need to be able to attend KMW. Phil was a pastor and a very kind person who celebrated the good in others. There are no specific requirements for this scholarship.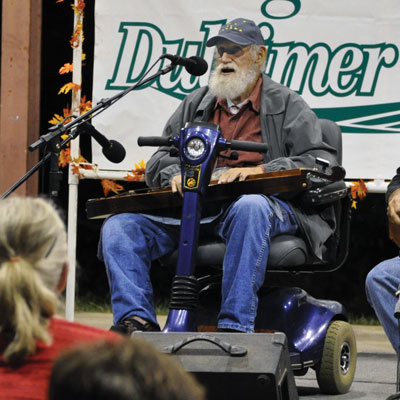 The Sam Stone Scholarship is in memory of an exceptional song and tune writer, performer, and musician whose music has touched the lives of so many. Sam was a regular at Kentucky Music Week and his songs can still be heard in workshops taught by many of our instructors. This scholarship also honors Sam & Daisy Stone's daughter, Lee, who passed away in recent years. This musical family celebrates Sam's connection with KMW through this scholarship covering the cost of classes for a young adult dulcimer player who does not have sufficient funds to attend.
There are many other scholarships that have been given through the years, usually in the honor of a KMW regular participant who has passed or in the name of a dear one, and often times funded by KMW.
If you would like to contribute to any of these scholarships, set up a scholarship fund in someone's name, or make a general donation to the KMW scholarship fund, please write to KMW, Inc., P. O. Box 86, Bardstown, KY 40004, and send your check made out to KMW, Inc.
You can also help our scholarship fund by donating a musical instrument for our silent auction or raffle. All proceeds go to insure that no person that is unable to pay is turned away from KMW.
If you are interested in receiving a scholarship please email Nancy Barker at info@kentuckymusicweek.com. In your request please give us your name, address and phone number and why you need the scholarship. Also let us know which scholarship you want. All scholarship requests are based on financial need.
Kentucky Music Week does not make public the name of recipients of these scholarships. The identity of the donor is made public or kept private at the request of the donor.