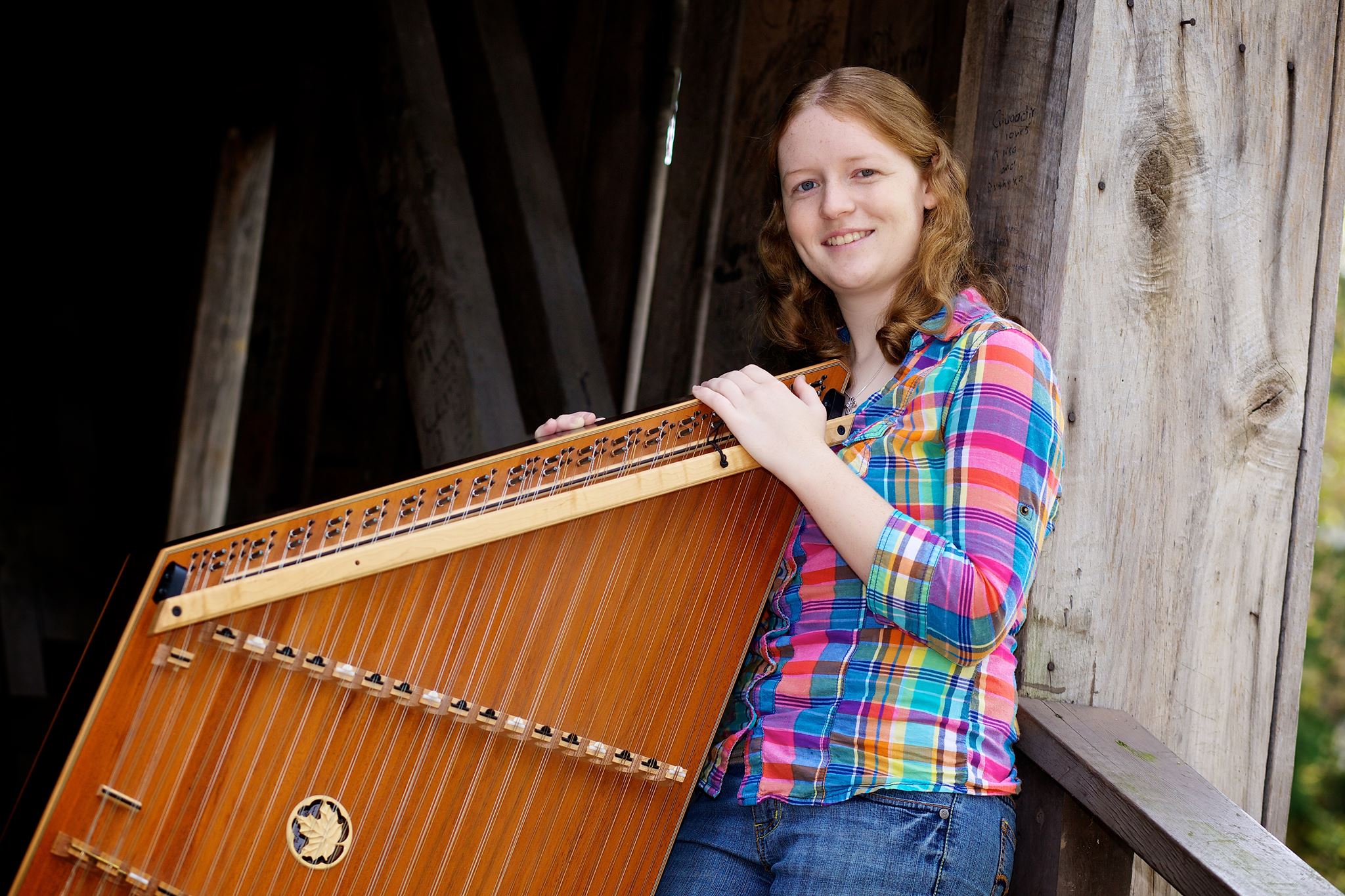 Karen Alley
Hammmered Dulcimer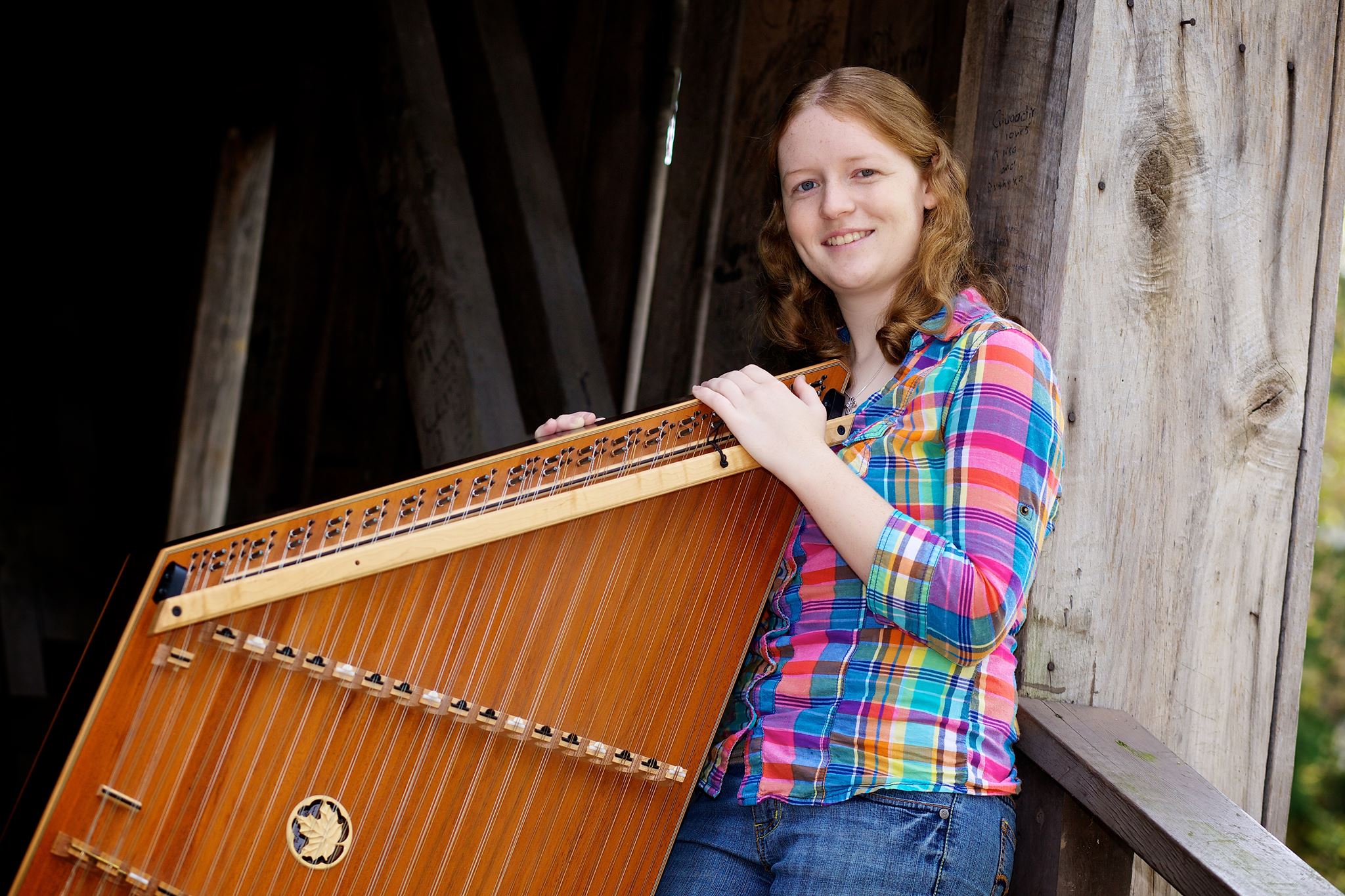 Karen Alley
Hammered Dulcimer
KAREN ALLEY, the 2014 National Hammered Dulcimer Champion, was playing the fiddle at a folk festival in 2004 when she discovered the hammered dulcimer, and quickly found that she could make much nicer sounds on the dulcimer than on the fiddle. Hammered dulcimer rapidly became a passion, and within a few years she began performing throughout the state and eventually in many other states, placing in local and national competitions. She also enjoys teaching both private lessons and festival workshops. Her favorite repertoire varies from Celtic melodies to church hymns to show tunes.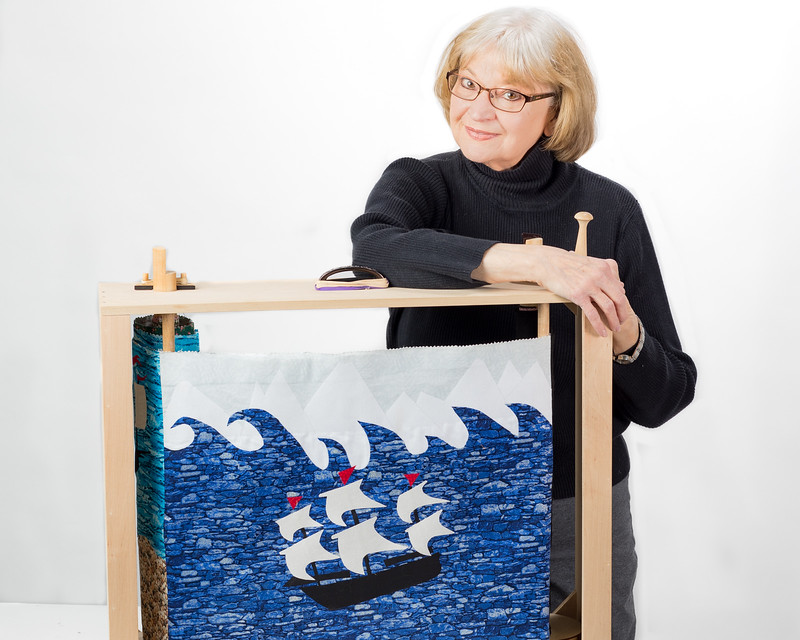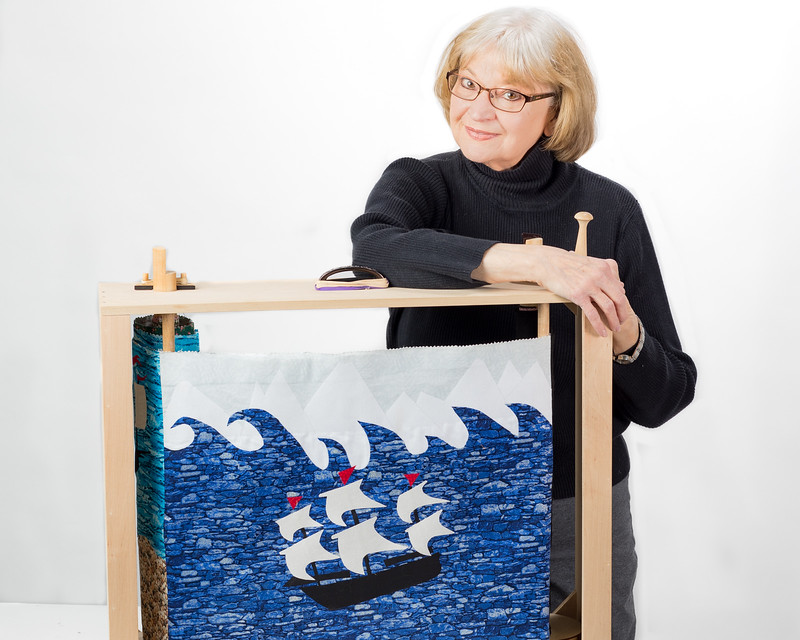 Jean Arena
Crankies
While taking a University of Kentucky course in Appalachian Music, JEAN ARENA became fascinated by crankies: moving panoramas that visualize the oft-times tragic, sometimes humorous, but always interesting stories told in ballads. A longtime interest in the Scottish, Irish and English ballads that made their way to Appalachia became a research project, and Jean now teaches a class entitled "Motain Music: The Ballads" for the Osher Lifelong Learning Institute (OLLI) in Lexington and Morehead, Kentucky.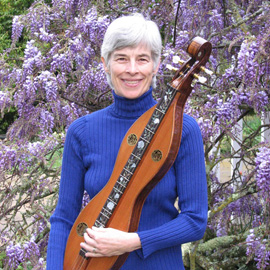 Janita Baker
Mountain Dulcimer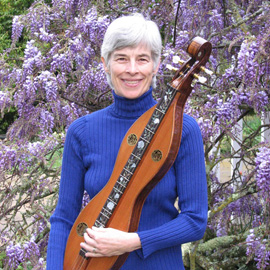 Janita Baker
Mountain Dulcimer
JANITA BAKER has been playing mountain dulcimer for over 35 years; through her recordings, books and appearances at festivals and workshops across the United States she has become well-known for her teaching skills and Blue Lion Dulcimers, which she builds with her husband Robert. As a solo performer on the mountain dulcimer, Janita presents her audiences with a wide range of musical experiences including classical, traditional, delta and country blues, ragtime, swing and original instrumental pieces. A gifted story teller, Janita delights her listeners with a warm and personal sharing of her music and introduces to her audience and her students the incredible complexity, variety and beauty of the mountain dulcimer.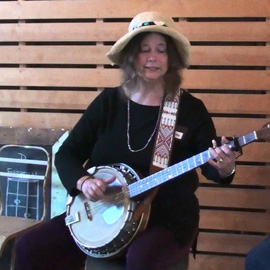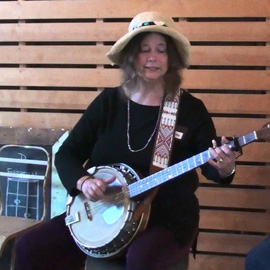 Cathy Baron
Banjo
CATHY BARTON - Although the main instrument Cathy teaches during Kentucky Music Week is the hammered dulcimer, Cathy is also an accomplished banjo player, with more than thirty-five years experience in both the clawhammer and two-finger picking styles. She worked with Grandpa and Ramona Jones in their crafts shop and dinner theater in Mountain View, AR in the 1970s and 1980s, and she toured with Ramona Jones for several years. Her banjo repertoire is influenced by Grandpa and Ramona, and by Missouri fiddlers such as the late Taylor McBaine and Pete McMahan. Her musical interests also include early country music, and music from the Civil War and Lewis-and-Clark eras. She and her husband Dave Para tour the United States, Europe and Canada and are best known for performing songs and tunes collected from traditional singers and fiddlers in their home state of Missouri and the Ozarks region. Cathy won the Tennessee State Banjo Championship two times, she appeared on the "Grand Old Opry," and on the television shows "Hee Haw" and "Nashville Now." She and Dave have made ten duet recordings.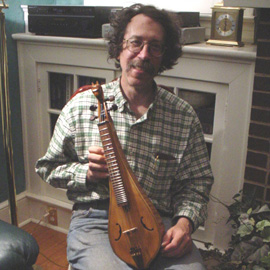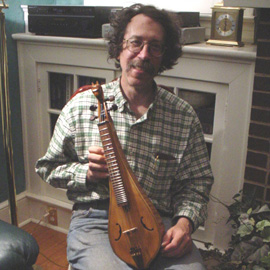 Ken Bloom
Bowed Dulcimer
KEN BLOOM has given solo concerts all over North America since 1974. These have included appearances at many major Folk Festivals and clubs in the U.S. and Canada. In the past he has been a regular performer at the Vancouver, Winnipeg, Edmonton, Owen Sound, Philadelphia, and Mariposa Festivals as well as appearing in major venues across the country and appearances on A Prairie Home Companion. More recently, his appearances have been closer to home. His North Carolina presentations include: The Stokes Stomp, Hiddenite Center, Turkey Festival (Raeford), Red Springs Highland Games, Mt. Airy Storytelling Festival, and many others. These programs include the traditional music of this country as well as Celtic and Eastern European selections. He usually uses Concert zither, Northumbrian-smallpipes, guitar, clarinet, bowed dulcimer and Minstrel banjo, but he will often include other instruments and traditions as well. He tries to introduce audiences to unfamiliar sounds in an entertaining way and expand their musical view of our ever-shrinking world. Ken has been a featured instructor in a new venture coordinated by Lois Hornbostel, "PLAYING THE BOWED DULCIMER" for the past two years at the Western Caroline University Mountain Dulcimer Week which was also offered in 2005.
Pam Bowman
Hammered Dulcimer
Pam Bowman
Hammered Dulcimer
PAM BOWMAN has played guitar from the time she was young. Her father was a guitarist who played and sang on a local, Michigan station in the 50's. Pam is a native of the Evart (Funfest) area, hailing from Marion, Michigan. It was in this dulcimer rich region that she first heard and saw a hammered dulcimer being played by a friend's father, while still a teen. It was nearly 10 years later when she noticed it's unique tones drifting through the air of a local, historic craft shop, that she inquired about the dulcimer in the recording, and thought to herself..."I'm old enough to buy one of those now!" Since that time she has been performing with the hammered dulcimer for 19 years as a duo with Jeff Gardner on guitar, and with a five piece group called Just Jammin' - performing gospel/country/bluegrass music. In 2005 Pam entered and won the Southern Regional Hammered Dulcimer Competition in Mt. View, Arkansas. Pam gives private lessons and group lessons on the hammered dulcimer, as well as teaching work-shops and performing at various festivals. Pam also performs her unique hammered dulcimer style and arrangements for many other venues. She has eight recordings available, as well as 2 instructional books on the hammered dulcimer and a series of instructional cd's focused on hymns.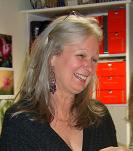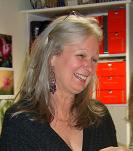 Katie Burke
Art
KATIE BURKE fell in love with sunlight filled watercolors over 25 years ago. Known for her exciting use of color and strong compositions, Katie is an instructor, juror, studio director, workshop coordinator and award winning watercolor and pastel plein air painter. She remains deeply inspired by the landscapes, people and places of her Kentucky home.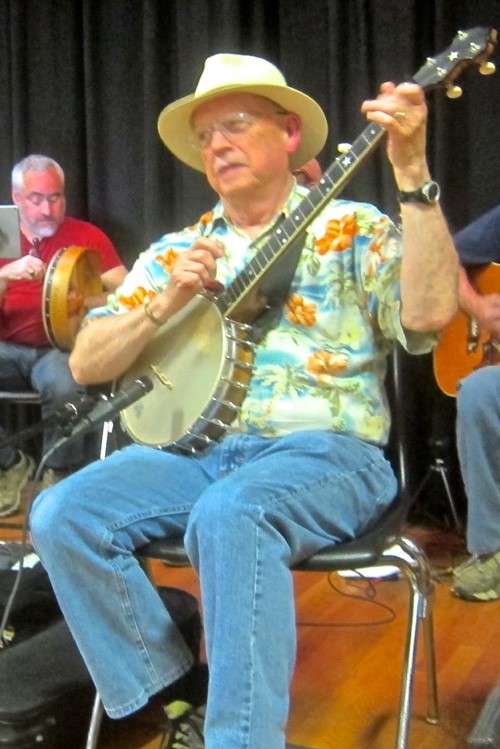 David Brooks
Clawhammer Banjo, Guitar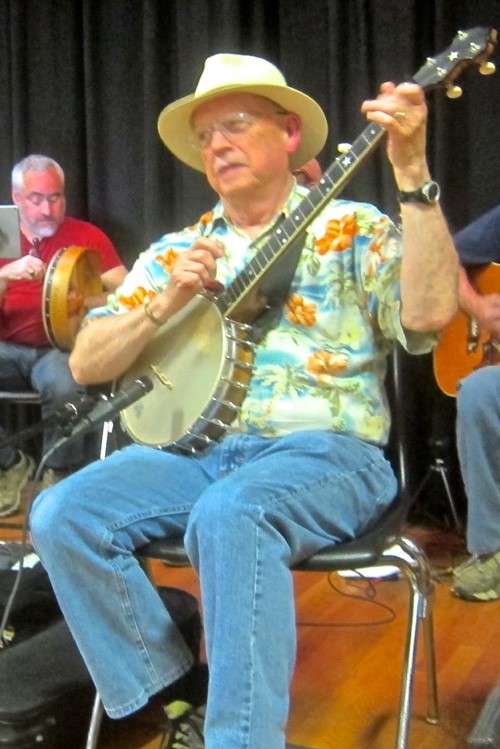 David Brooks
Clawhammer Banjo, Guitar
DAVID BROOKS has been playing guitar and banjo for 50 years. He first learned from the banjo player in "The Stephen Foster Story" in his hometown of Bardstown, KY. Five years later, David was the banjo player in that outdoor musical. For the past 12 years, he has played clawhammer banjo for the weekly contra dances in Louisville. He has taught banjo and guitar at Kentucky Music Week for the past 6 years and leads a monthly jam in Louisville. He has written occasionally for Banjo Newsletter and has authored 11 Kindle ebooks of tablature for clawhammer banjo. He is active on the Banjo Hangout web site, writing tab for others and providing advice.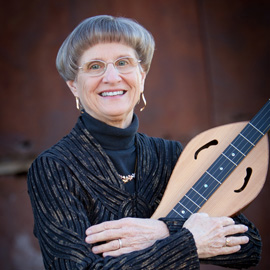 Sue Carpenter
Mountain Dulcimer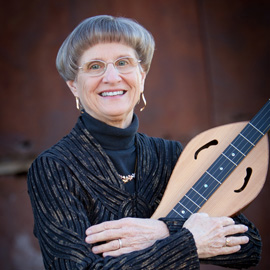 Sue Carpenter
Mountain Dulcimer
SUE CARPENTER started playing the mountain dulcimer in 1981 and has been performing and teaching since 1982. When Sue Carpenter first played a mountain dulcimer she was immediately captivated by its simplicity and challenged by its fingerpicking possibilities. As an instrumentalist, she is best known for her expressive style and exceptional technical ability. She delights her audience and balances her repertoire with a wide range of styles and tempos: traditional, folk, original compositions, ragtime, fingerpicking, and strumming.
As a teacher, Sue is well known for her challenging, highly organized and intensive methods, nurturing patience, and energetic enthusiasm that make learning fun. She is a favorite workshop leader and performer at dulcimer festivals from Maine to California. Before moving to Texas, Sue taught for many years for Old Songs and The Heldeberg Workshop, in the Albany, NY, area; and in 1985, she founded the Dulcimer Association of Albany. In Texas, Sue continues to teach private lessons and has become a regular workshop instructor at several state dulcimer festivals.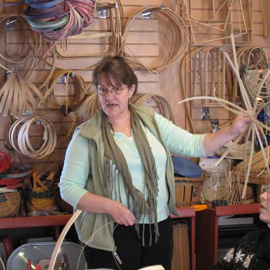 Mary Carty
Basketry / Crafts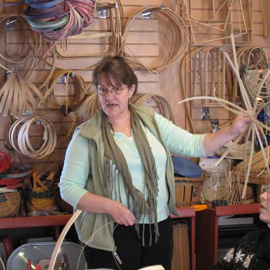 Mary Carty
Basketry / Crafts
MARY CARTY is a life long resident of Burlington County, New Jersey, and brings her Native American heritage into play with her handmade baskets. Many of her traditional baskets are shapes and styles with which her Lenape ancestors would have been familiar. She is a true artist and innovator who does not like to have her creativity stifled by following rigid set patterns. This is a concept Mary often stresses to her students. "I don't just teach people how to make baskets; I teach them how to be basket makers," she often says. On the other hand Mary has a healthy respect for tradition. This is why she has researched and makes traditional baskets which her Lenape ancestors would have made. It is this blending of tradition and creativity that makes Mary Carty's baskets both unique and highly collectible. A talented basket weaver, Mary has won many awards for her original basket designs through the years, and has admirers throughout the world.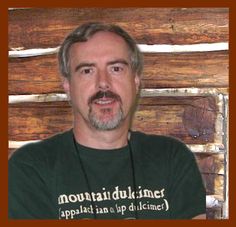 Bill Collins
Mountain Dulcimer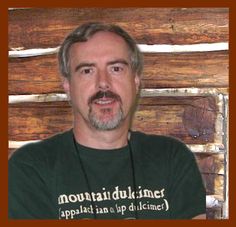 Bill Collins
Mountain Dulcimer
BILL COLLINS has been in love with the Appalachian dulcimer for well over 20 years, and is equally passionate about playing, teaching, and learning. In his performing and teaching, he seeks to focus on bringing out the dulcet qualities inherent in the dulcimer and on expanding the repertoire of music played on the instrument. He has conducted more than 100 workshops at dulcimer festivals and has written six books of dulcimer arrangements: two collections of Shaker tunes (one co-written with Nina Zanetti), O'Carolan tunes, Irish jigs, Icelandic folk tunes, and a potpourri of advanced arrangements. He has composed over twenty pieces for the instrument, several of which are featured on a CD entitled The Sum of the Parts, a recording of dulcimer solos and duets performed by Bill and Nina Zanetti.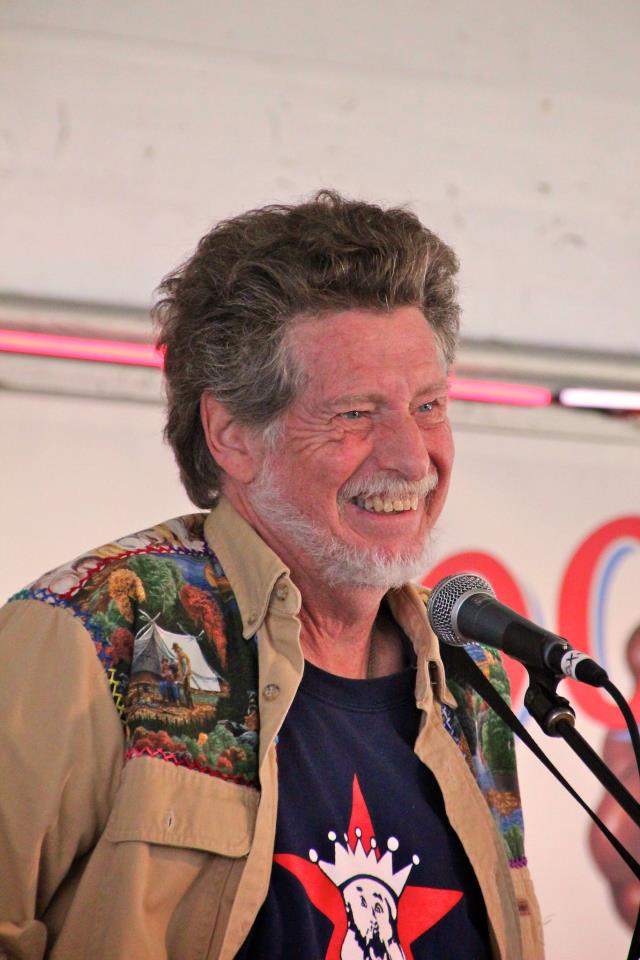 Alan Darveaux
Washtub Bass, Mountain Dulcimer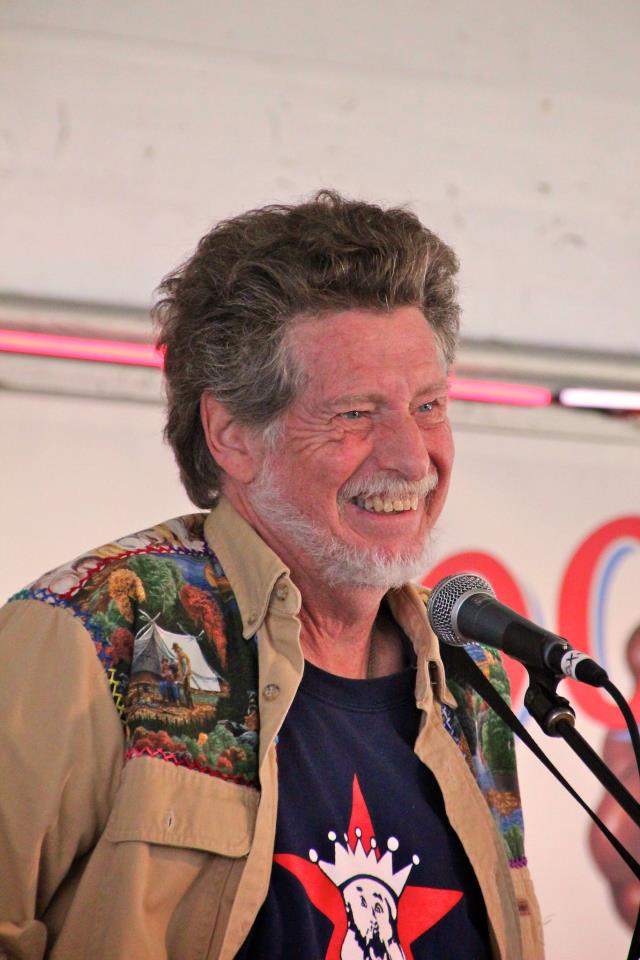 Alan Darveaux
Washtub Bass, Mountain Dulcimer
ALAN DARVEAUX's interest in the Appalachian dulcimer and love for Berea came during his college years at Illinois State University. Students from Berea working with Alan in northern Illinois introduced him to the dulcimer during his visits to Berea. Since that time he has followed the lore and lure of the truly American instrument. Moving to North Carolina Alan spent his time visiting traditional builders in the mountains of Appalachia. Learning their craft and perfecting his playing. In 2001 Alan was awarded the first dulcimer champion of Kentucky. Upon retiring from his special education teaching position Alan has spent his time developing his avocation in the world of "dulcimania". Alan has been honored with 2015 Kentucky State Dulcimer Champion and winner in the "original tune" category.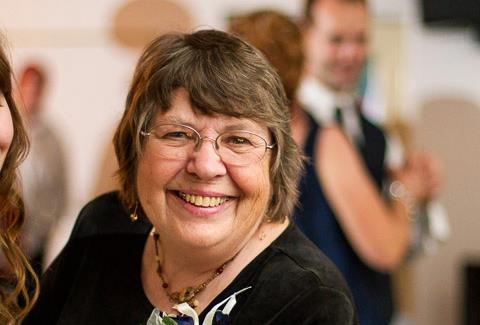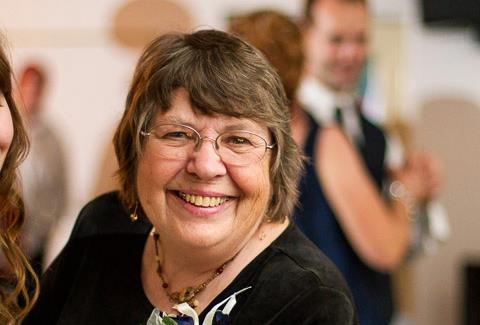 Marge Diamond
Crafts
MARGE DIAMOND is best known in the dulcimer world for airbrush painting on t-shirts of dulcimers and other musical instrument patterns. You will see her shirts walking around at almost every dulcimer festival or gathering! Marge's speciality is creating a painting of your own dulcimer on your clothing! Her paintings are beautiful, but she is also known for her other crafts, including sock monkey making! This summer at KMW she will be teaching how to make her "sock critters" and have lots of fun dressing them up! Maybe we can get some critters to participate in the Theme Day events during KMW!
Marge is the mother of 5 and grandmother of 12 and has had a lifetime of creative crafting and arts, with painting and sewing her greatest loves. She is also an accomplished dulcimer player and a familiar face at jams!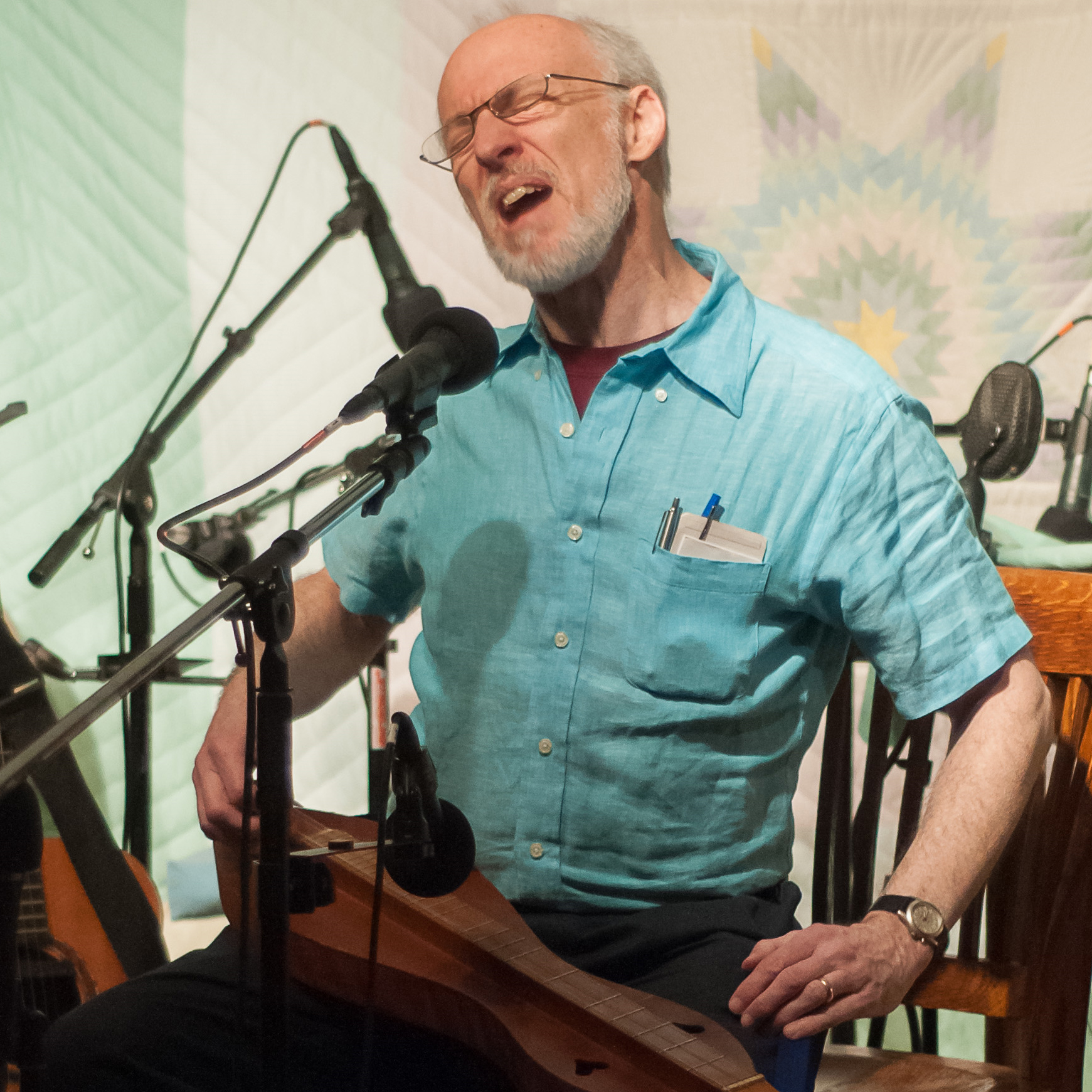 Sam Edelston
Mountain Dulcimer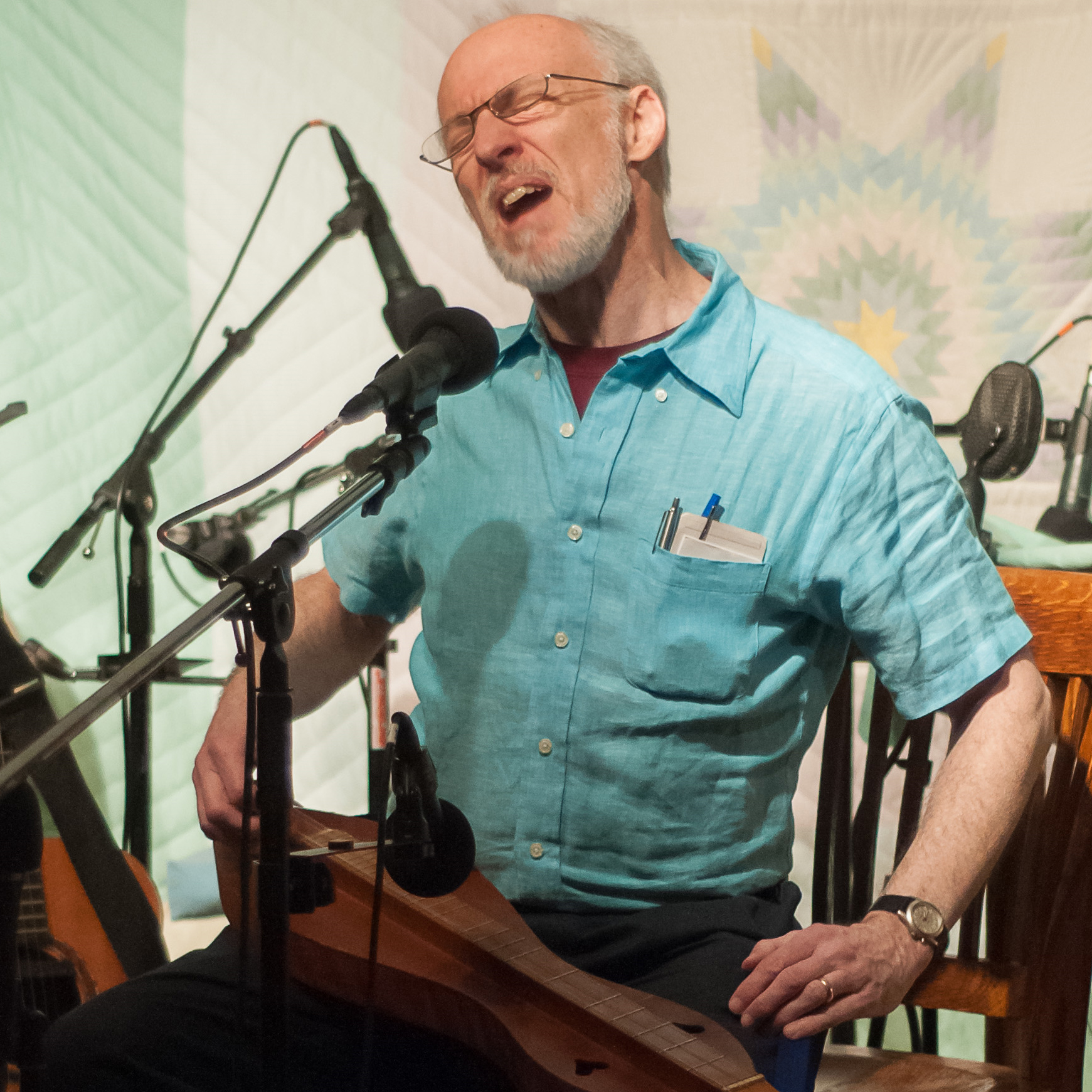 Sam Edelston
Mountain Dulcimer
SAM EDELSTON is on a quest to make dulcimers as popular as flutes and fiddles. His mountain dulcimer videos have been viewed more than 300,000 times, embracing much of the rock and pop spectrum, plus bluegrass, bossa nova, Sousa, opera, and more. On acoustic and electric dulcimer, he often makes his three strings sound like more than one instrument, and has gained a reputation as an innovative arranger. Though KMW will be his first time teaching in this part of the country, Sam has performed and taught at a variety of festivals and other venues around the Northeast, and is chair of the Nutmeg Dulcimer Festival in Connecticut. As one workshop student commented last year, ""As zany as Sam is, he is a patient, knowledgeable, caring teacher also experienced, smart, creative, etc."" And as a preschooler once told her mother, ""Rosie's daddy came in and sang to us today. He was so much fun. Can he be my daddy, too?"" Sam excited to be a part of KMW for the first time.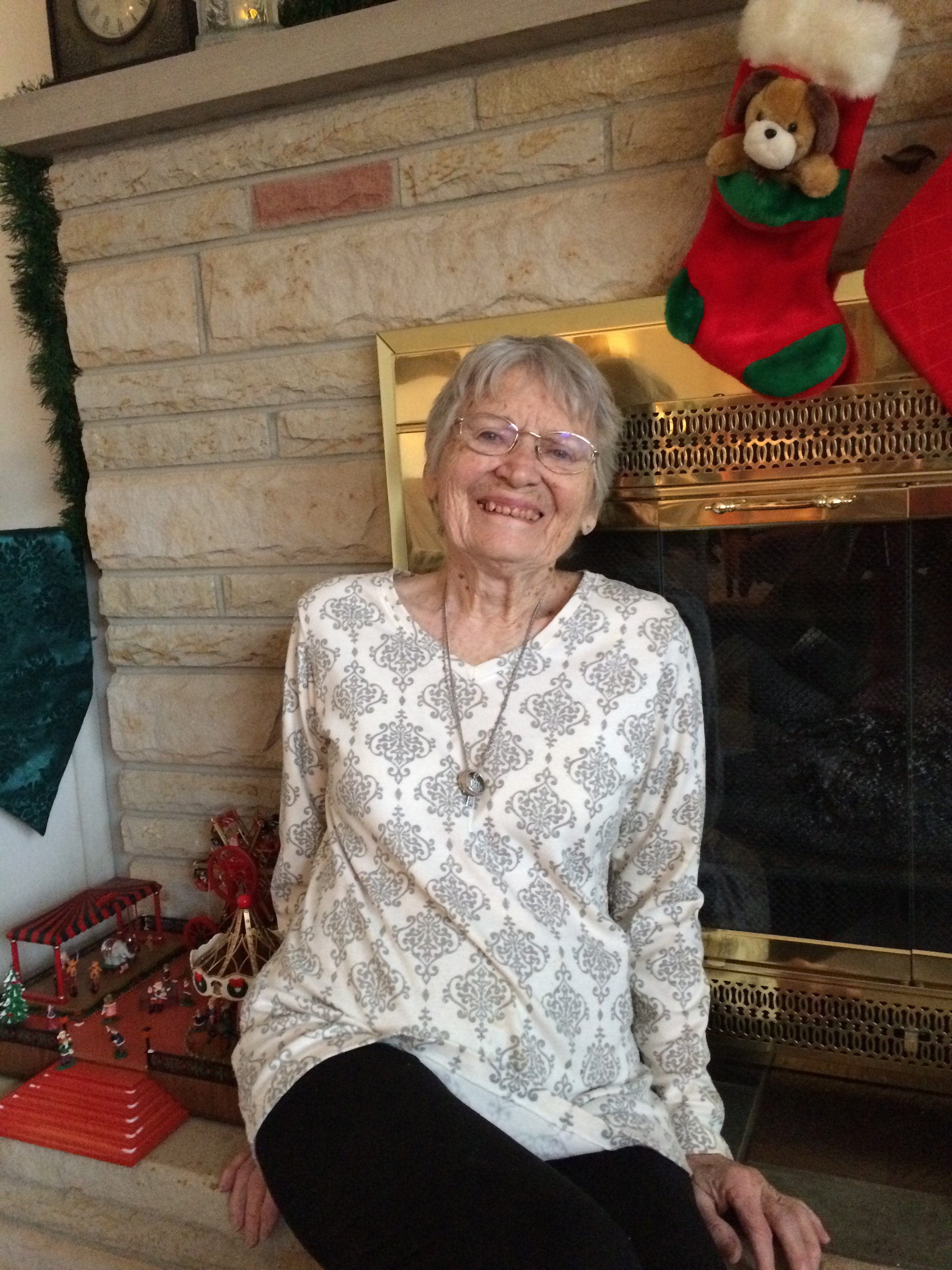 Lee Felt
Crafts
LEE FELT, better know as The Dulcimer Bag Lady does needle work as a hobby and a way to relax. One aunt tatted, one crotched, and her mother-in-law knitted. Lee benefitted from these talented ladies many years ago. She likes to teach the basics of the craft so that the student will have a solid foundation to go forward and learn on their own.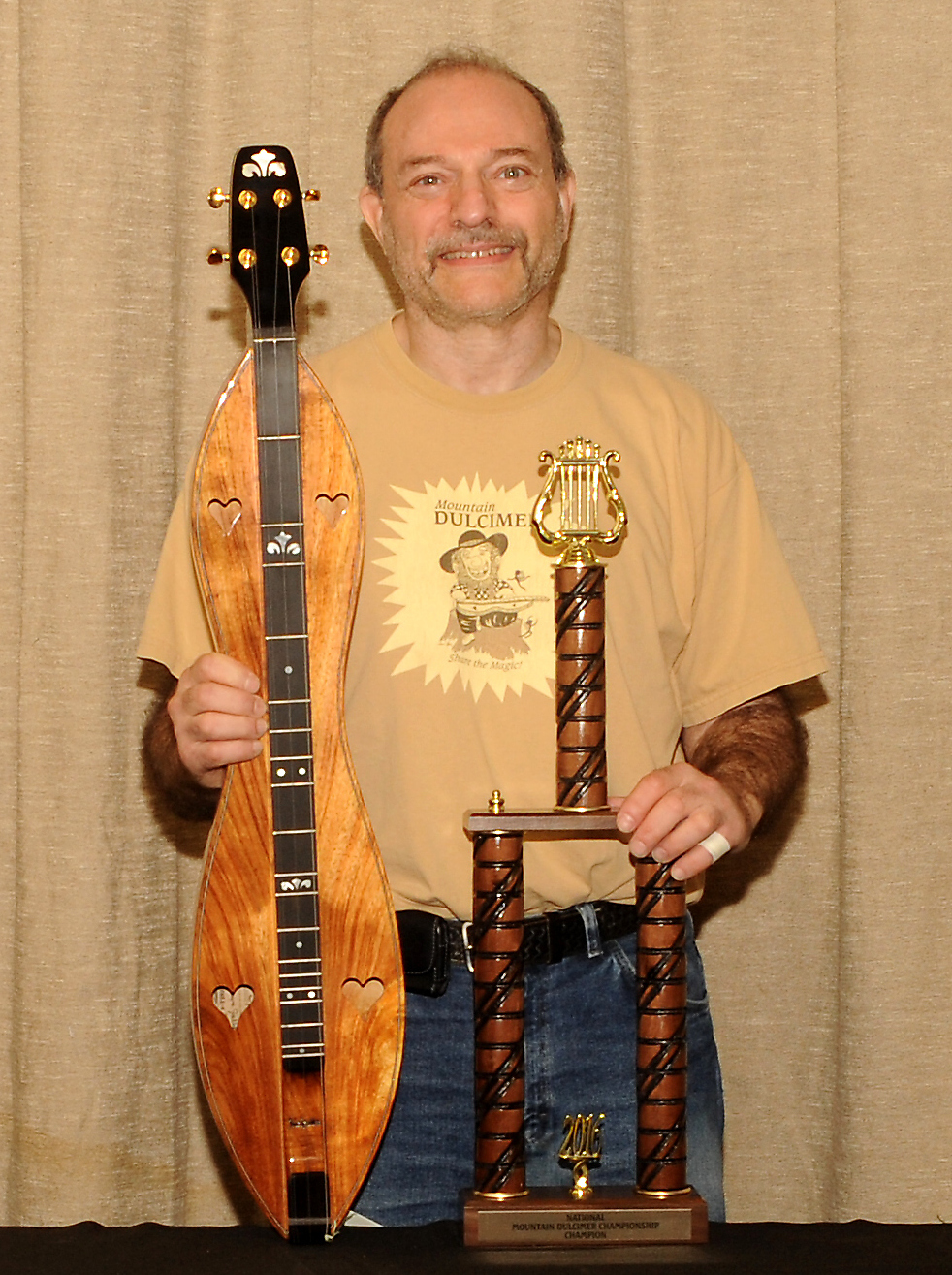 Mark Gilston
Mountain Dulcimer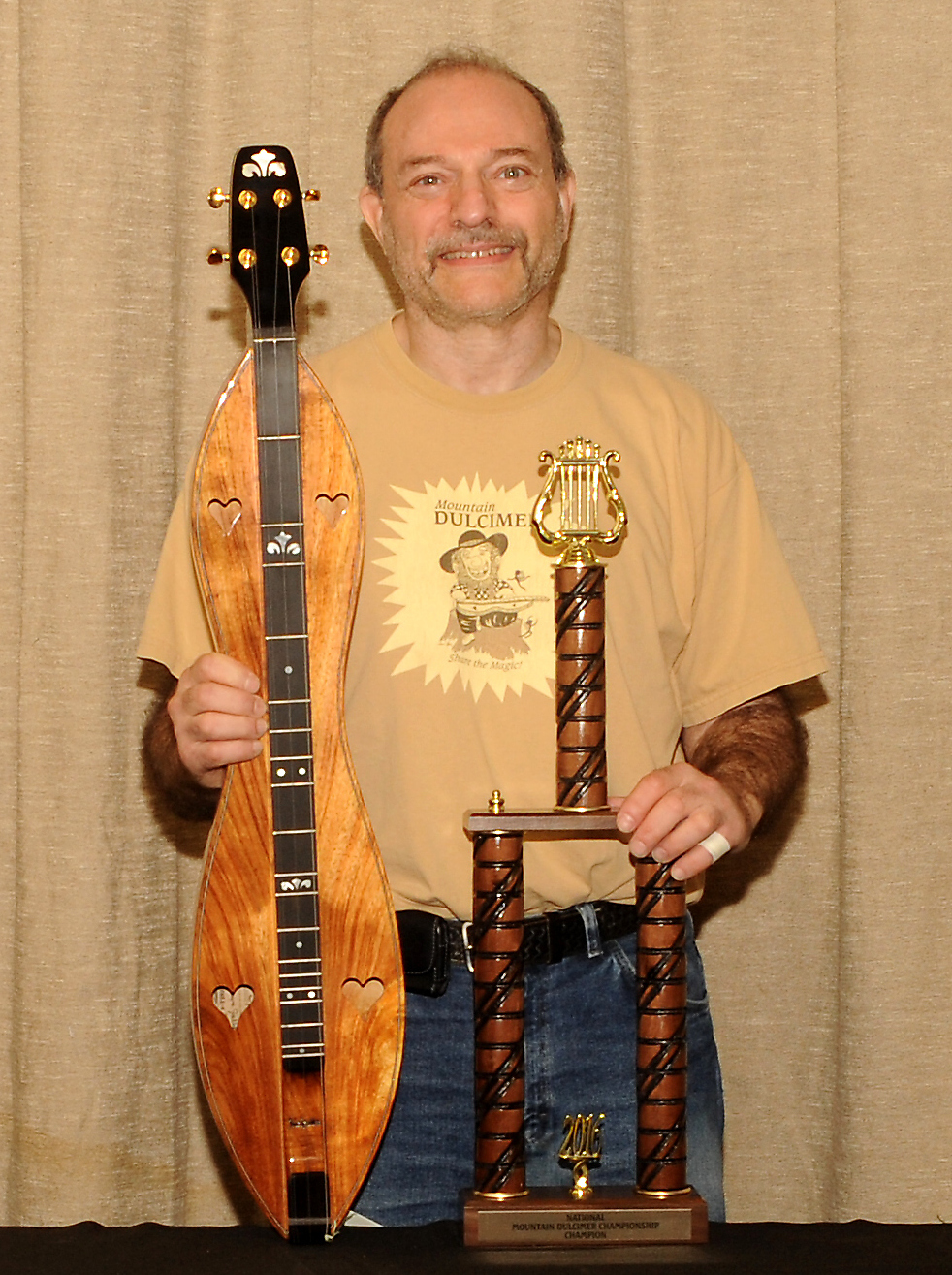 Mark Gilston
Mountain Dulcimer
MARK GILSTON, the 2017 National Mountain Dulcimer champion, has been performing traditional folk music for over forty-five years. His vast repertoire encompasses songs and instrumentals from North America and most of Europe, particularly the British Isles, Scandinavia, and the Balkans. His performances are laced with humor and a wide base of eclectic knowledge. Mark, an award-winning mountain dulcimer player (National Dulcimer Champion (2016), Deep South Dulcimer Champion (2016), Texas Mountain Dulcimer Champion (2015) and Oklahoma Mountain Dulcimer Champion (2004), also plays concertina, guitar, banjo, Bulgarian bagpipes, pennywhistle, ocarina, tambura, and others.
He has given concerts at numerous colleges, clubs and coffee houses throughout the United States as well as England and Canada, and has been a featured performer and workshop leader for various folk music societies including the New York Pinewoods Folk Music Club and the Folk Song Society of Greater Washington as well as groups abroad. He is currently performing music and living in Austin, Texas.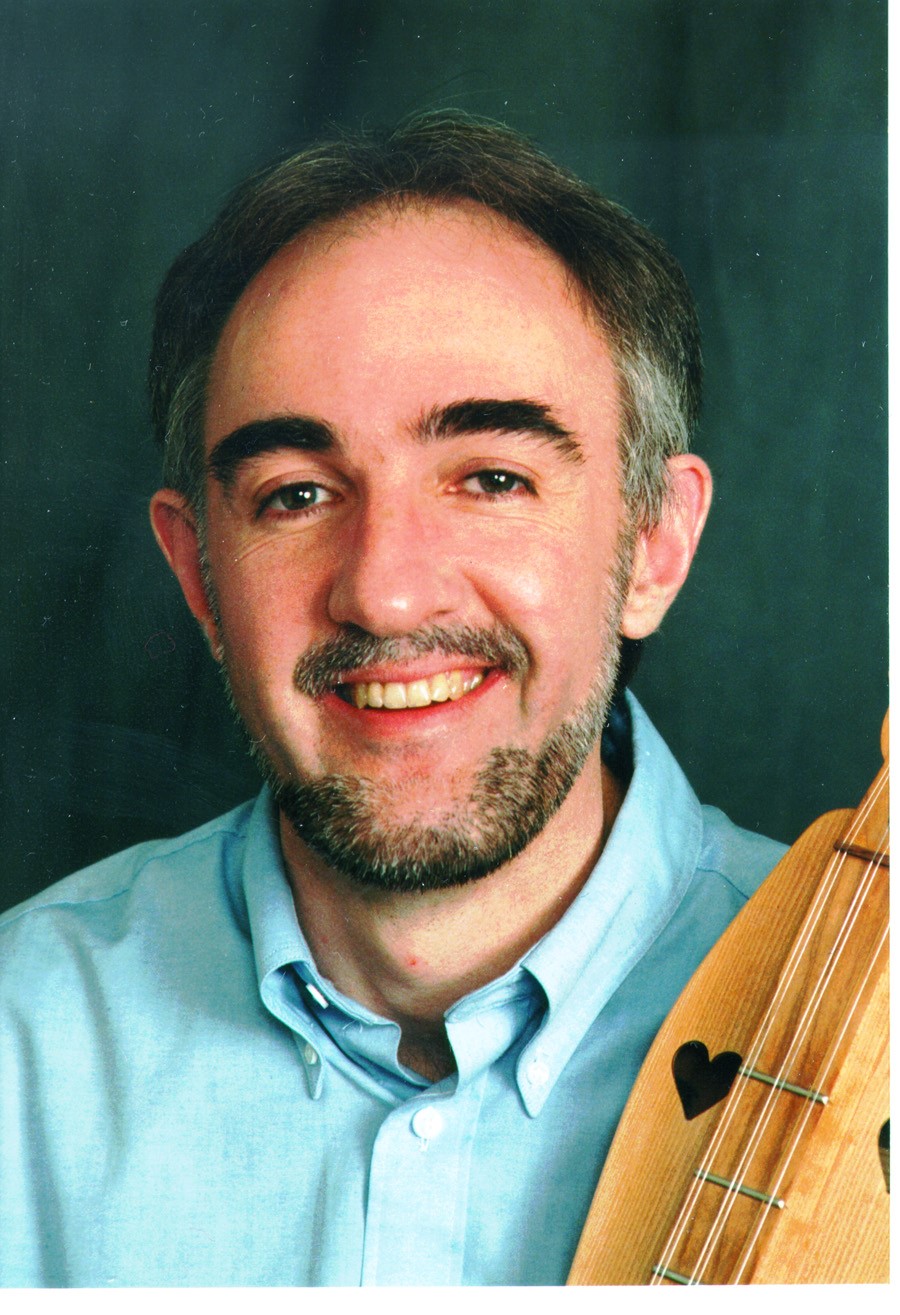 Tull Glazener
Mountain Dulcimer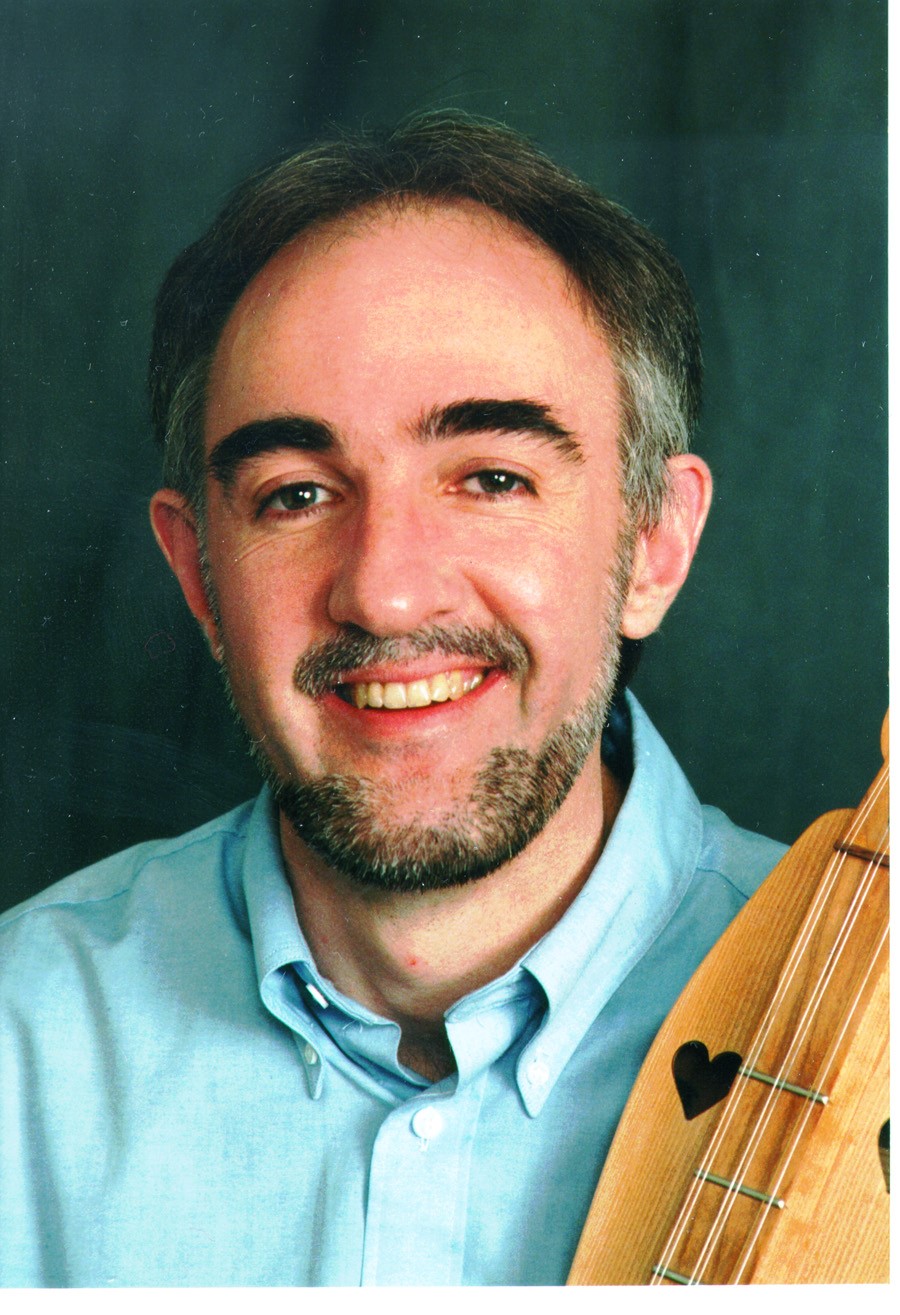 Tull Glazener
Mountain Dulcimer
TULL GLAZENER, from Indianapolis, IN, has been sharing the music of the mountain dulcimer through performances and workshops at festivals throughout the country since 1986. He enjoys adapting all kinds of music to the mountain dulcimer, including aires and waltzes, rag-time, traditional/old-time, contemporary, classical, and jazz. He has produced 5 recordings, is the author of 4 instruction books, and has produced a series of "learn-at-home" teaching CDs. He has served as a columnist for "Dulcimer Players News", and has been included on 2 of the "Masters of the Mountain Dulcimer" recordings produced by Susan Trump. In addition to the mountain dulcimer, Tull also plays hammered dulcimer and button accordion, and is a member of the "Family Reunion String Band" as well as the "Half Way Home" trio, both based in central Indiana.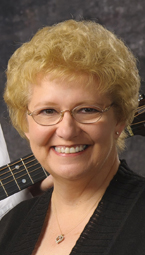 Dana Gruber
Mountain Dulcimer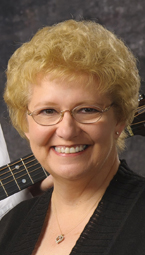 Dana Gruber
Mountain Dulcimer
DANA GRUBER is a mountain dulcimer performer and instructor from the Greater Cincinnati area who has been playing the dulcimer since 1997. Her music is a blend of both modern and traditional music, along with some original compositions. Her unique arrangements explore the contemporary side of the mountain dulcimer and add a new dimension to traditional tunes.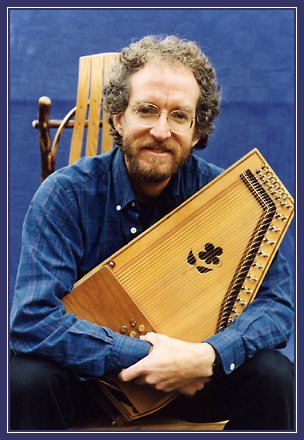 Les Gustafson-Zook
Auto Harp, Folk Dance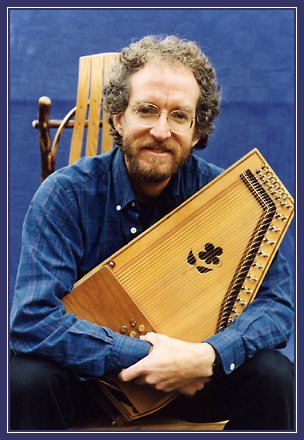 Les Gustafson-Zook
Auto Harp, Folk Dance
LES GUSTAFSON-ZOOK is an entertaining and energetic multi-instrumentalist performer for both children and adults. He performs solo and with his wife, Gwen at a variety of venues across the country. He is the 2001 International Autoharp Champion as well as the 1989 National Autoharp Champion, and performs and gives workshops on the autoharp at festivals from coast to coast. Here's where he will perform his Songs of the Pioneers program in elementary schools this year.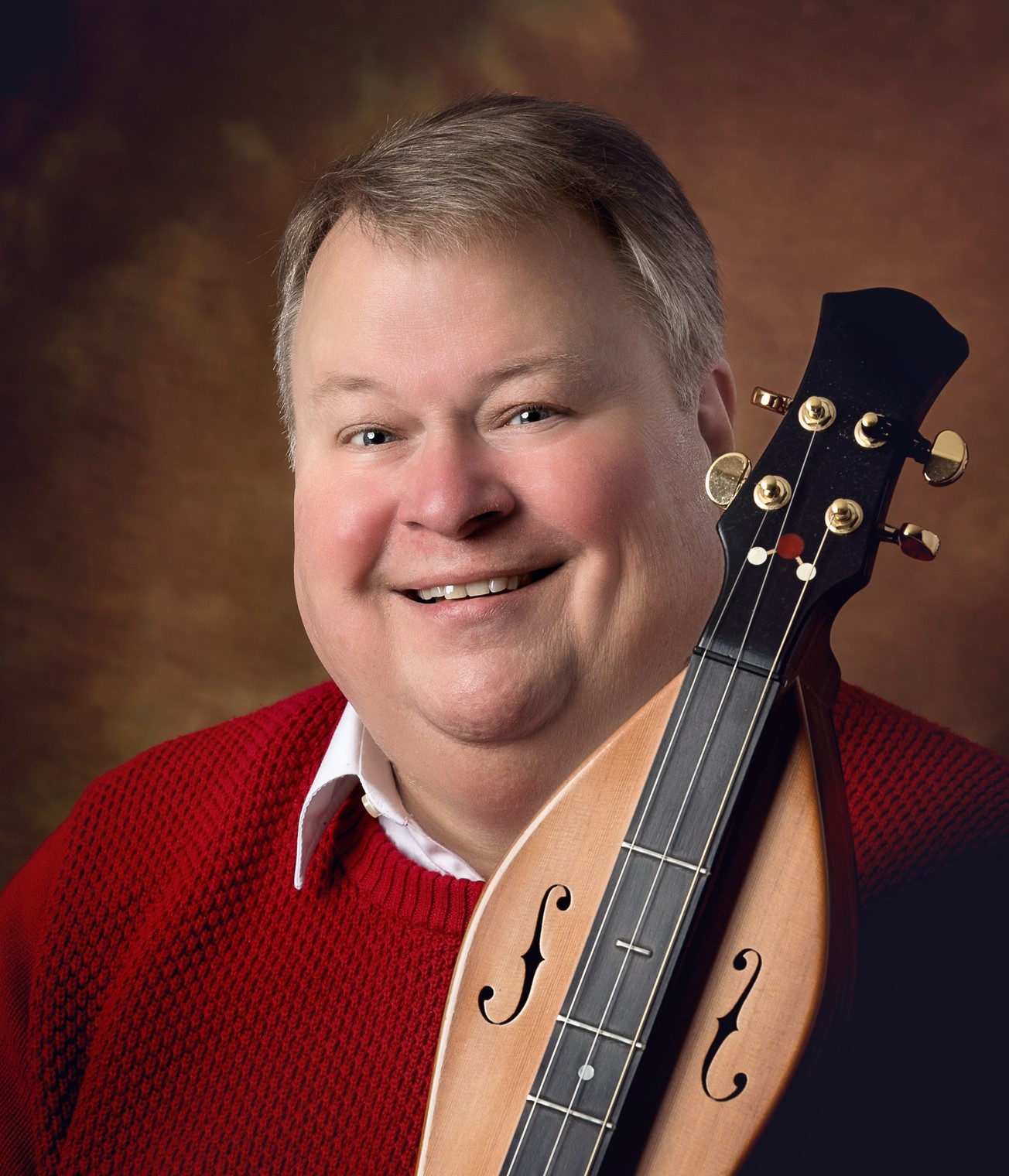 Dave Haas
Mountain Dulcimer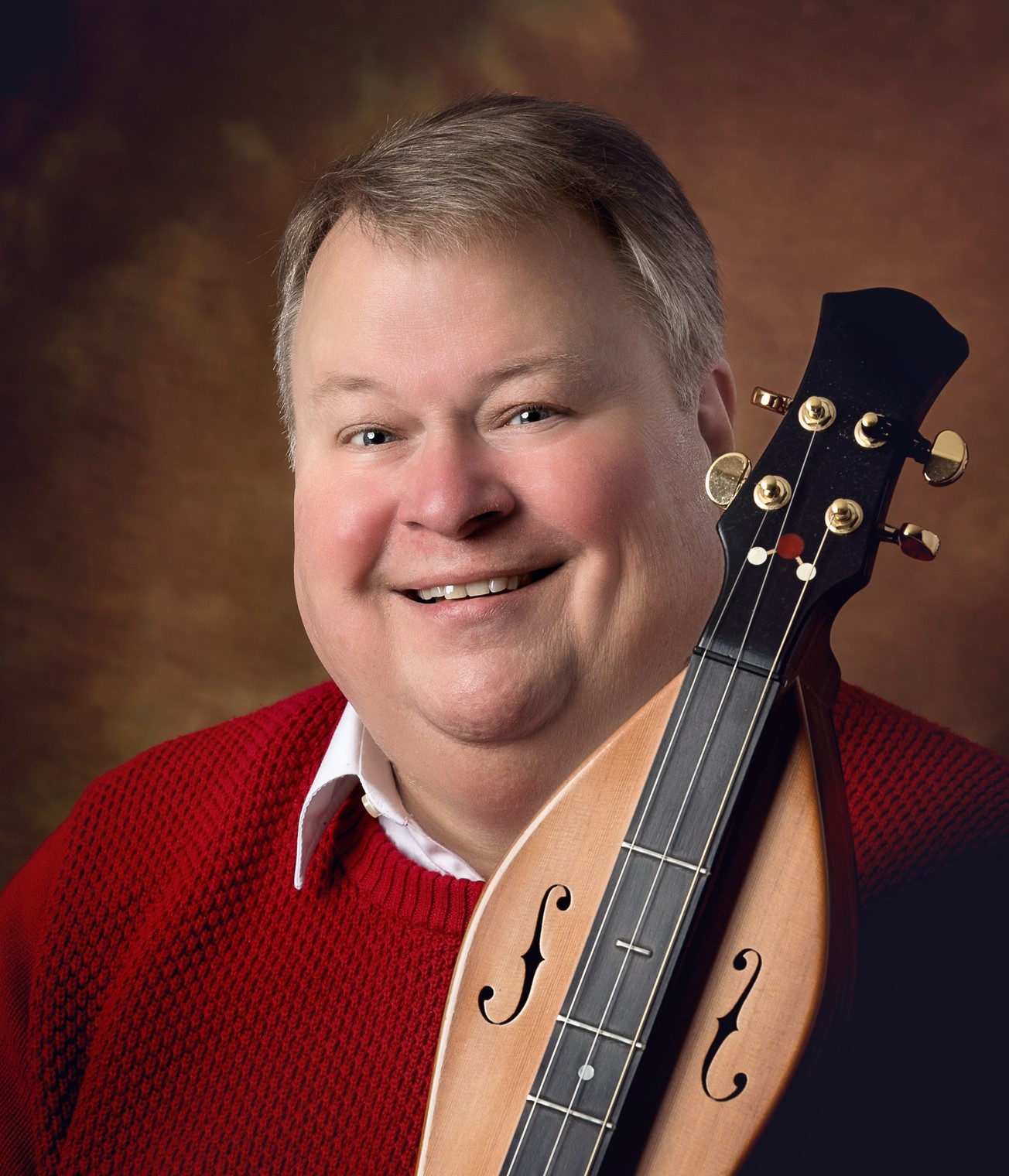 Dave Haas
Mountain Dulcimer
DAVE HAAS lives in Charleston , WV and has been playing the mountain dulcimer for over 10 years. He teaches dulcimer in both private and group settings, and was the founder of the Almost Heaven Dulcimer Club in Charleston , WV . Dave loves to share the mountain dulcimer and its history with schools, churches, and civic organizations, and has even brought dulcimer music to those in prison! Dave also plays the guitar, sings, and leads music on Christian retreat experiences such as Kairos Prison Ministry, The Walk To Emmaus, and Teens Encounter Christ.
John Hollandsworth
Autoharp
John Hollandsworth
Autoharp
JOHN HOLLANDSWORTH is a native of Christiansburg in southwestern Virginia. He had his introduction to the autoharp through the playing of his grandmother and grew up playing informally with family and friends. His autoharp style incorporates both chromatic and diatonic techniques. John started performing with his wife Kathie in the 1980s as a duo, and they have also played in several band formats for concerts and dances. John was the first Mountain Laurel Autoharp Champion in 1991 and has been named Best All-Around Performer at the Galax Old Fiddlers Convention three times. He is an internationally acclaimed teacher and performer throughout the U.S. and England, and is the well-respected luthier of Blue Ridge Autoharps. John was inducted into the Autoharp Hall of Fame in 2010.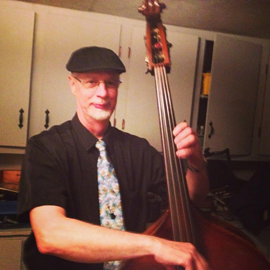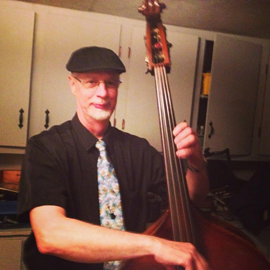 Eric Jarboe
String Bass
ERIC JARBOE is enjoying his of retirement after 40 years of teaching orchestra and band in southeastern Indiana. Eric is a bass specialist who performs regularly on string bass (Classical, Jazz, & Bluegrass), tuba, and bass guitar. Eric is also an accomplished hammered dulcimer player.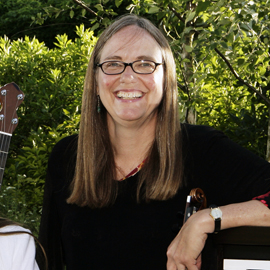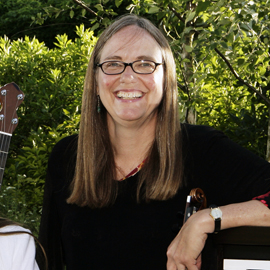 Karen Jones
Fiddle
KAREN JONES, fiddle and mandolin-- Member of the legendary Reel World String Band (1977 to present) www.reelworldstringband.com and TDH4 (1993 to present), an acoustic folk quartet out of Lexington, Kentucky. www.talldarkandhandsome.org . Karen also plays fiddle for contra dances, Mostly Waltzes, and the Lexington Vintage Dancers. She has toured extensively throughout the United States, Canada and Italy with the Reel World String Band; notably--the Lincoln Center's traditional folk series, NPR with Noah Adams; Clearwater Revival, Winnipeg and Vancouver Folk festivals, Winfield and many more. She has performed and studied fiddle with master fiddler Daniel Carwile. Discography of Reel World String Band: Live Music (2005), The Coast is Clear (2001), Appalachian Wind (Flying Fish Records) (1989), whatnots (1996), Mountain Song: Reflections (2002)--compilation of the first recordings 1981-1984, They'll Never Keep Us Down, Women's Coal Mining Songs (Rounder Records)--compilation of various artists including Hazel Dickens, Phyllis Boyens, Florence Reece, Sara Ogan Gunning and the Reel World, Songs For The Mountaintop, Kentucky Musicians Sing Out Against Mountaintop Removal -- a compilation of various Kentucky artists including Jean Ritchie, Silas House and others.
Lorinda Jones
Mountain Dulcimer / Harp
Lorinda Jones
Mountain Dulcimer / Harp
As a member of the Kentucky Arts on Tour Directory, LORINDA JONES brings the roots of American music to her audiences through the music of the mountain dulcimer and folk harp. Lorinda has authored numerous books and recordings, and in addition, is a board certified music therapist. She teaches and performs at camps and festivals all over the United States, has 3 books published by Mel Bay Publications, and teaches private and group lessons on mountain dulcimer and folk harp. Lorinda has experienced a varied career in music, ranging from that of a band director, private and public school music instructor from preschool through college, to work as a music therapist. She continues to appreciate and discover her musical roots through the playing of Celtic and American folk music as a performer and recording artist.
John Keane
Mountain Dulcimer, Native American Style Flute
John Keane
Mountain Dulcimer, Native American Style Flute
JOHN KEANE began his career as a music educator following graduation from Northeast Louisiana University in 1985. He has taught band, choir, private applied lessons, and general music on every level from kindergarten through college. John has written and arranged music performed by high school and college bands throughout the United States. He is also an accomplished performer on tuba and percussion. John and his wife Karen reside in Shreveport, Louisiana and enjoy traveling the country performing and teaching workshops for the mountain dulcimer and Native American flute communities.
Karen Keane
Mountain Dulcimer
Karen Keane
Mountain Dulcimer
KAREN KEANE began her career in music education following graduation from Northeast Louisiana University in 1988. She has taught music on every level from early childhood education through college. Karen has taught private applied flute, composed music, and adjudicated many musical performances during her career. She is also an accomplished performer. Karen and her husband John reside in Shreveport, Louisiana and enjoy traveling the United States performing and teaching workshops for the mountain dulcimer and Native American flute communities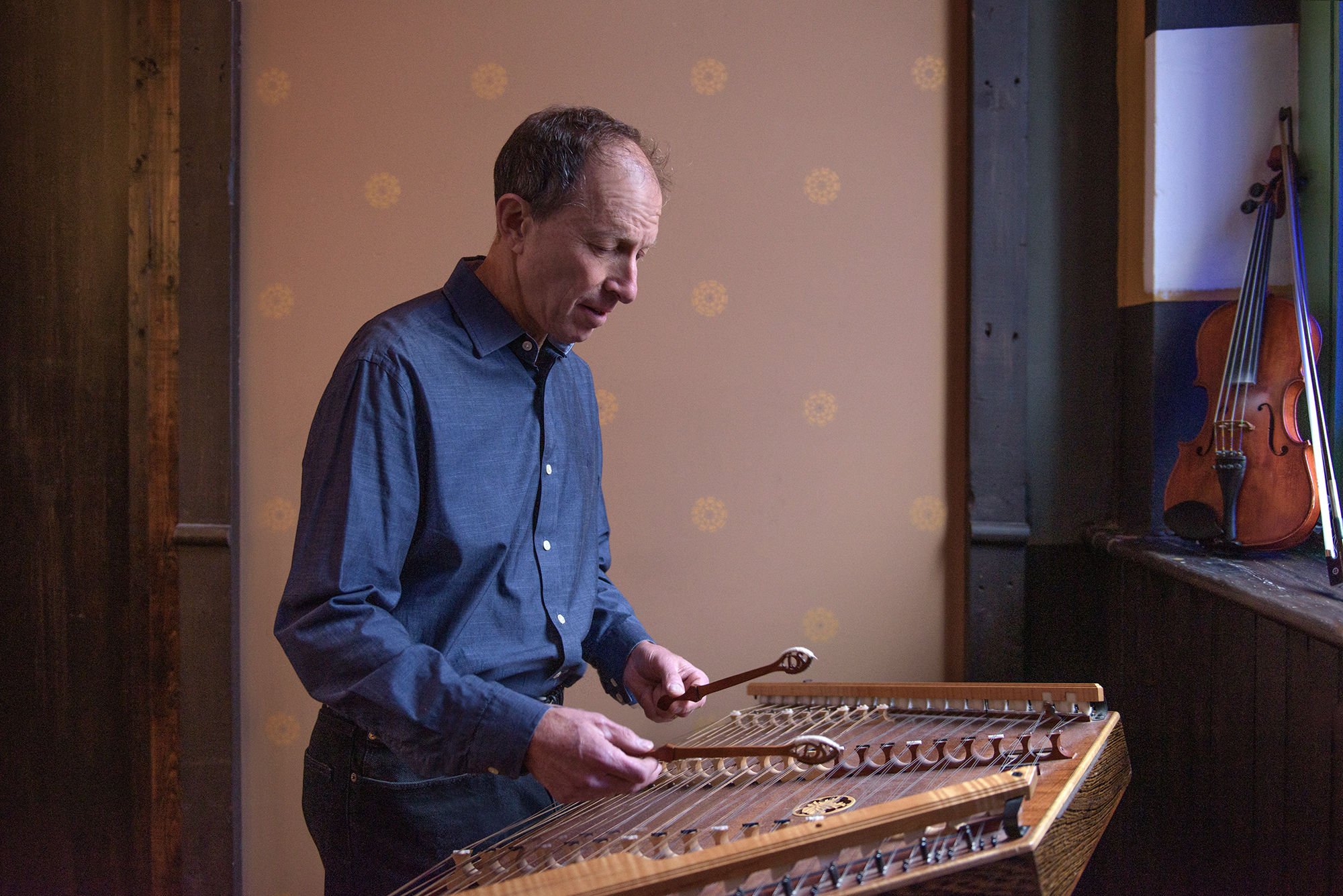 Ken Kolodner
Hammered Dulcimer, Fiddle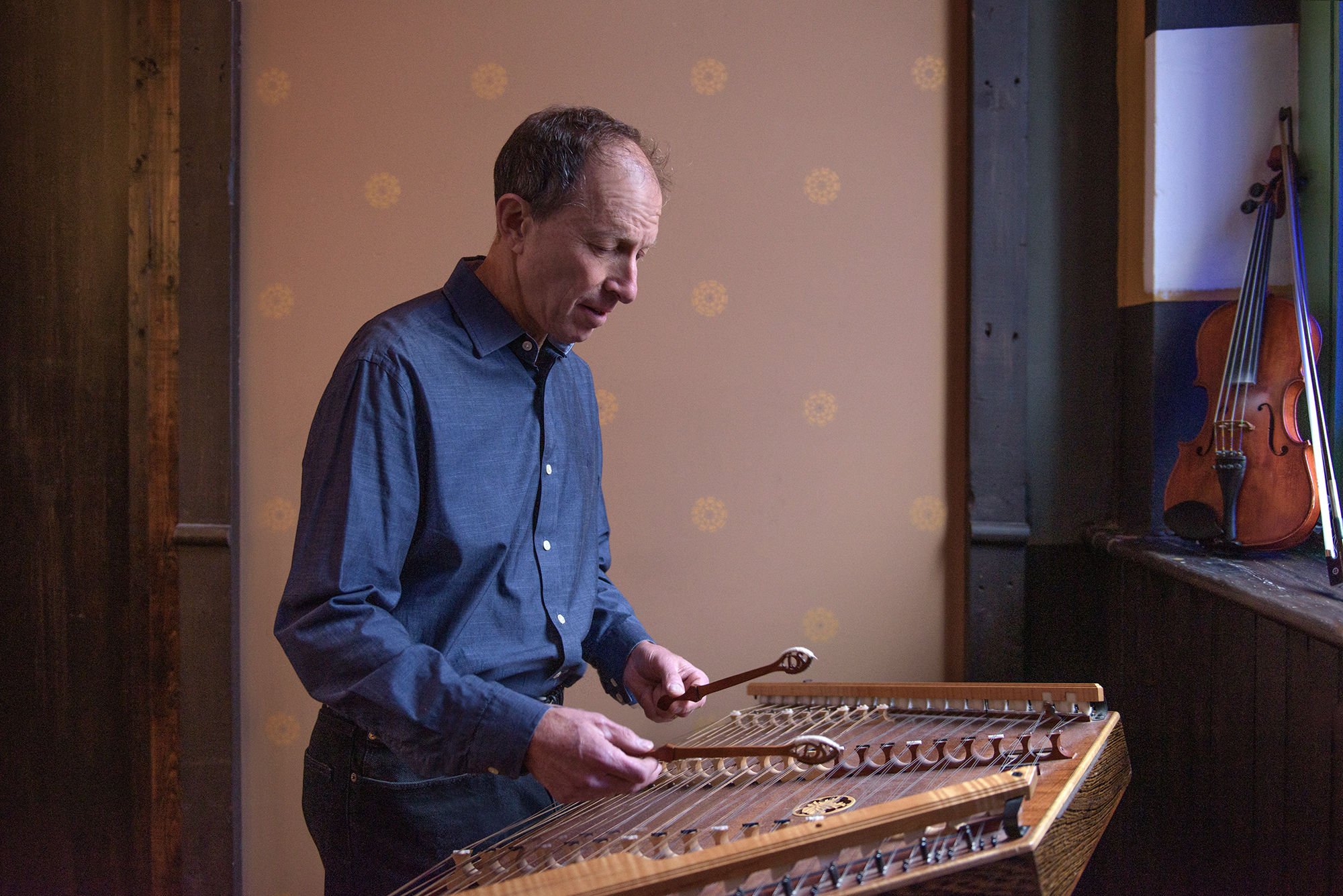 Ken Kolodner
Hammered Dulcimer, Fiddle
KEN KOLODNER is a fiddle and hammered dulcimer virtuoso. Journey to the Heartland is a collection of a dozen sets of traditional and new tunes from Appalachia, Scotland, Ireland, Quebec and Cape Breton Island. Ken is joined by fiddlers Laura Risk and Elke Baker, and guitarists Paddy League and Robin Bullock, who also contributes mandolin to the project. This is a reunion of sorts as Ken has played in the band Helicon with Robin and Greenfire with Robin and Laura. Ken's dulcimer style is quite refreshing. So often players view the instrument as tuned percussion and tend to perform at breakdown speed with little emphasis on the nuance of the tune. Ken is a sensitive player and approaches the instrument in a very pianistic fashion. The recording opens with a duet of the original tune "Caspian's Return" teamed with the Irish traditional "Cuckoo's Nest Hornpipe" featuring Ken's dulcimer along with Laura on fiddle and Paddy on the guitar. The mid-tempo medley typifies Ken's light and airy touch with sensitive support from the other two. Later we are treated to "Coleman's March/North Carolina Breakdown" as a duet with Robin Bullock. "Breakdown" is taken with just the right amount of fire in this conversation between two old friends. "Polka of the Setting Sun/Reel Antoinette" is a medley of two tunes from Quebec which features Laura's fiddle and Paddy's drop-D guitar in a totally delightful arrangement. We are treated to the twin fiddles of Ken and Elke on "Mike in the Wilderness/Redbird" two American traditional tunes. Robin's guitar and mandolin add drive to this fine old-time medley. Ken's style and the easy manner in which he interacts with his old friends make for a very appealing combination.
Walter Lay
Guitar, Mandolin
Walter Lay
Guitar, Mandolin
Originally from Danville, Kentucky, WALTER LAY grew up in a community that was rich in traditional music. He has been playing various styles of roots music for 50 years. Walter currently performs on guitar, harmonica and mandolin with the Blind Dog String Band, and as a duo with Molly McCormack. Walter also builds guitars, mandolins and dulcimers and is featured in the Kentucky Arts Council program, "Made To Be Played".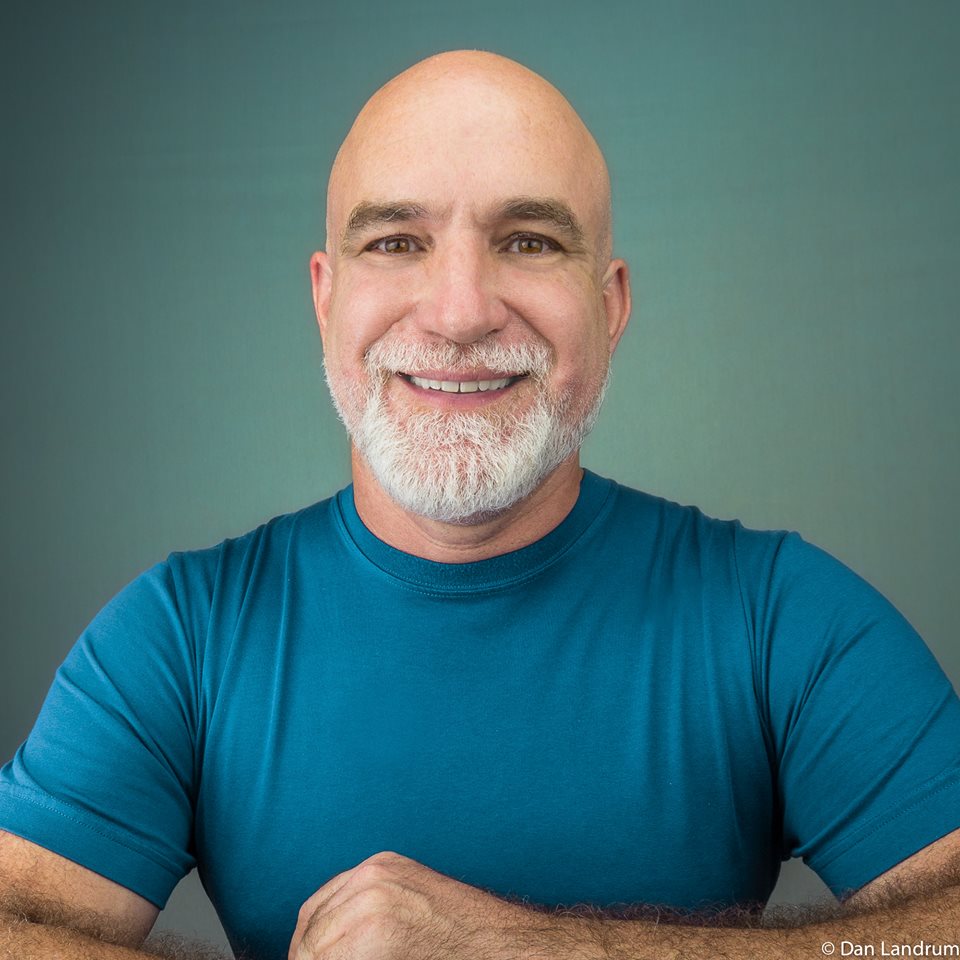 Dan Landrum
Hammered Dulcimer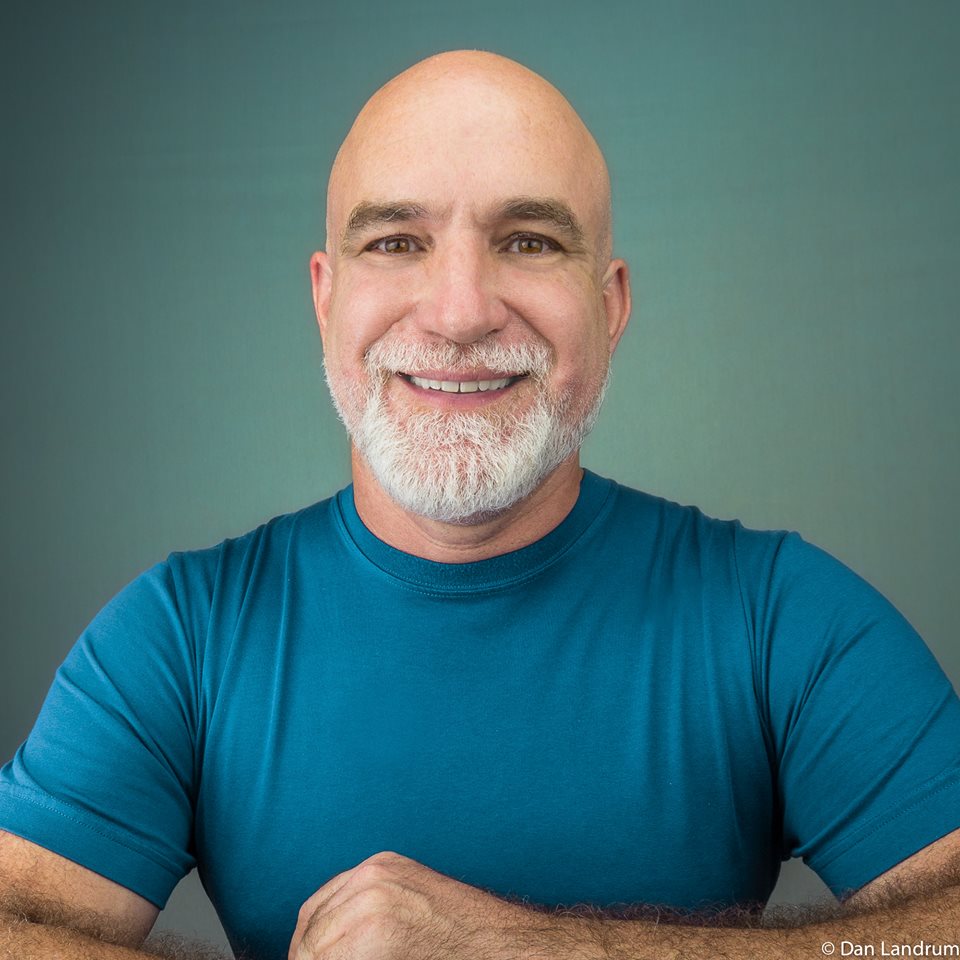 Dan Landrum
Hammered Dulcimer
DAN LANDRUM's hammered dulcimer playing has taken him from street performing in Chattanooga, TN to Olympic Ceremonies, Presidential Inaugurations, multiple festivals around the country and major stages in hundreds of cities from the Hollywood Bowl in Los Angeles to New York's famed Madison Square Gardens. Since 2003, he's been a soloist in the Yanni Live tour, which was recently televised as a PBS special. In 2006, Dan and his wife, Angie, took over publication of the internationally distributed Dulcimer Players News magazine, in print since 1974.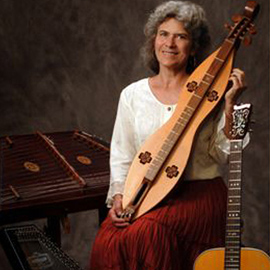 Anne Lough
Dulcimer, Guitar, Dance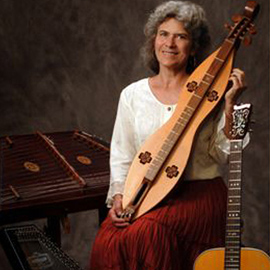 Anne Lough
Dulcimer, Guitar, Folk Dance
ANNE LOUGH is a nationally known traditional musician with over thirty-five years experience in performance and teaching. A native of Springfield, Virginia, Anne has been around music all her life and began playing and singing folk music as a young teen. She has continued to share her love of music through the years while raising four daughters and completing a Music Education Degree from Murray State University, Murray, Kentucky, and a Master of Music Education Degree from Western Carolina University, Cullowhee, NC. She now devotes all her time to festivals, workshops, performances and school residencies.
In addition to being a frequent instructor in mountain and hammered dulcimer at the prestigious John C. Campbell Folk School in Brasstown, NC., Anne has taught at the Swannanoa Gathering, Western Carolina Dulcimer Week, Augusta Heritage Dulcimer Week and at numerous other festivals and workshops throughout the country. Equally at home on guitar, autoharp, mountain and hammered dulcimer, Anne's mastery is impressive. Her artistic interpretation, sensitive playing style, versatility and skill as an instructor have earned her national acclaim.
Anne is well known as an instructor and performer of traditional singing, storytelling, folklore, folk dance and the shaped-note tradition, but her repertoire ranges from classical music to old standards, show tunes and sacred music. Her programs have delighted and inspired all ages from day-care and pre-school children to Elderhostelers. Active in schools as a Visiting Artist, Anne is also on the Touring Artist Roster for the North Carolina Arts Council.
Erin Mae
Mountain Dulcimer
Erin Mae
Mountain Dulcimer
ERIN MAE, formerly Erin Rogers, has developed a unique and progressive style of playing mountain dulcimer learned by jamming at bluegrass festivals and old-time sessions. She performs extensively in the band Scenic Roots, carrying the rhythm section with her signature percussive chop and flat-picking fiddle tunes with impressive dexterity. She won the National Mountain Dulcimer Contest in 2004 and graduated in 2010 from South Plains College's Commercial Music program as the first ever mountain dulcimer major . Erin is also a survivor of Hodgkin's Lymphoma and played dulcimer through all of her chemotherapy treatments. The music she culls from her instrument will lift the spirit and heal the soul.


Sue Massek
Banjo
SUE MASSEK is a musician committed to using the music she writes and the songs she sings as tools for social justice. As a member of the Reel World String Band from its beginning in 1977, she has been heavily influenced by the Highlander Center, which has provided training for grassroots movements beginning in the 1930's. It's there that the spirit and purpose of her music took shape.
Sue's solo work has taken her to Guatemala and Nicaragua, but for three decades she worked in the schools using folk music and folk as a method of teaching core curriculum and diversity. She was a Circuit Rider for the Kentucky Arts Council for two years and has also worked for Kentucky as a "Community Scholar" in the "Folklife Program". She participated in Appalshop's "Voices From Home" cultural exchange in San Antonio and Alaska.
Her love for nature is the driving force and spiritual base for her life and music. Though she was born a "flatlander" in Kansas, Sue embraces Kentucky and Appalachia as home for her heart and soul.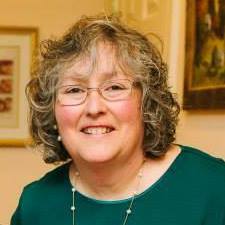 Jennifer McWhirt
Photography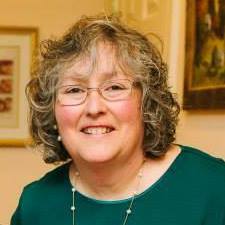 Jennifer McWhirt
Photography
JENNIFER McWHIRT has been captivated by photography ever since she was given her first 35mm camera over 30 years ago. In addition to running a shop supporting American artisans, Jen can be found teaching photography to students in the Tennessee/Kentucky/Alabama area.
If you are interested in learning more about my methods, please check out my blog(which features tips for photographers of all skill levels) and my Facebook page.
Ilace Mears
Hammered Dulcimer
Ilace Mears
Hammered Dulcimer
In April, 2012, ILACE MEARS was awarded first prize in the Southeast Regional Hammered Dulcimer Championship contest at the Ozark Folk Center in Mountain View, Arkansas. Ilace is the 2017 National Hammered Dulcimer champion. The same weekend, she and Scott Kirchner (St. Louis, MO) also won the Ensemble contest during the 35th Annual Dulcimer Jamboree at the Folk Center. She made her workshop instruction debut at the 2011 Memphis Dulcimer Gathering and has been a very favorably reviewed instructor at The OPDC Funfest in Evart, MI; the Gateway Dulcimer Festival in Belleville, IL; and the Ozark Folk Center. She looks forward to many more opportunities to share her musical knowledge and love of the instrument!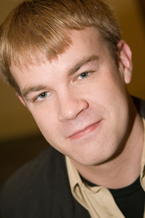 Jeffrey Miller
Dulcimer / Drama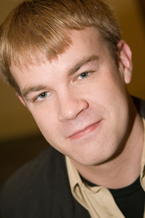 Jeffrey Miller
Dulcimer / Drama
JEFFREY MILLER is in pursuit of a Master's of Arts in Theatre at Miami University and received a B.A. in Theatre from Northern Kentucky University. A teaching theatre artist, musician and performer for 18 years, Jeffrey has performed with a variety of theatre companies in over 75 productions in the region. One of Nancy Barker's original "kids", Jeffrey has been teaching adult and youth Mountain Dulcimer classes for over 20 years. A member of the group "Next Generation" with Katherine Whitaker, "State of Mind" was recorded at the age of 14 in 2000. He has performed his original songs and traditional arrangements on stages at a variety of regional festivals including Pine Mountain, Kentucky Music Weekend, and Ohio Valley Gathering. Jeffrey has taught youth and adult folk music, storytelling, and theatre at festivals throughout the Midwest. In three years of touring shows and workshops with Madcap Puppet Theatre, he explored the way in which puppetry can be used to teach morality and imagination with youth through community and performance. Jeffrey seeks to pursue an MFA in Theatre for Youth, Acting or Acting Pedagogy and further explore the methods in which performance can enhance civic dialogue with youth. He aims to be a tenured professor in the Fine Arts, bridging theatre, traditional folklore, and music into a cohesive exploration of the Arts in America.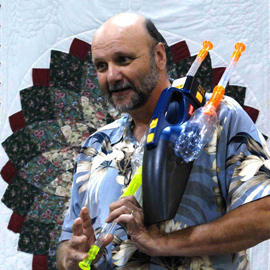 Jim Miller
Dulcimer / Guitar / Mandolin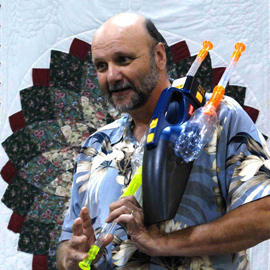 Jim Miller
Dulcimer / Guitar / Mandolin
JIM MILLER has been playing and performing traditional music for the past 40 years. An accomplished instrument builder and teacher, he has taught workshops at numerous festivals as well as won many awards for his musicianship including first place on dulcimer at both Galax, VA and Fiddler's Grove, NC. For twenty years, Jim was the owner of the Hampton Music Shop, in Hampton, Tennessee, where he handcrafted over 750 hammered dulcimers. He has played with Celtic, Bluegrass, Swing, Blues and Old Time bands, and has done session work on many recordings.
In addition to being an accomplished performer and workshop leader, Jim also is an enthusiastic jam facilitator who likes to get everyone involved. His "chord signing for the harmonically impared" is legendary. He plays guitar, banjo, octave mandolin, mandocello, bass, steel drum, percussion, hammered and mountain dulcimers as well as his own off-the-wall musical inventions, which are always entertaining..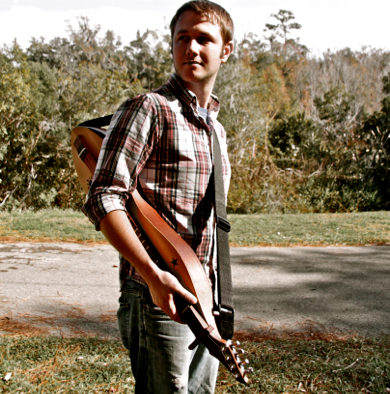 Aaron O'Rourke
Mountain Dulcimer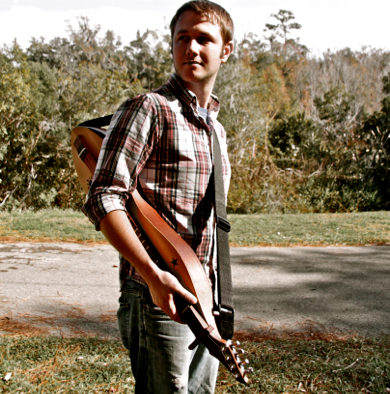 Aaron O'Rourke
Mountain Dulcimer
AARON O'ROURKE's exploration of the mountain dulcimer began in high school at a time when his only musical experience consisted of playing bass in a punk rock band. In the fall of 2002 Aaron began his first dulcimer lessons and in 2004, Aaron attended Western Carolina University's Dulcimer Week on a youth scholarship. The next year, Aaron was invited back as an instructor.
In a short period of time, Aaron became one of the headlining names at many dulcimer festivals across the country including, Dulcimer Week at the Augusta Heritage Center (David & Elkins College) in Elkins, WV, Kentucky Music Week in Bardstown, KY, Redwood Dulcimer Day in Santa Cruz, CA, Nutmeg Dulcimer Festival in Middletown, CT, Suwannee Dulcimer Retreat in White Springs, FL and many more. To date, Aaron has authored seven instructional books for mountain dulcimer.
In 2010, Aaron won the National Mountain Dulcimer Competition held at the Walnut Valley Festival in Winfield, KS. Aaron is also a past winner in the Florida Old-time music competition held in Dade City, FL and the Southeastern Regional Dulcimer Contest in Mountain View, AR.
Jon Pickow
Vocals, Banjo
As a composer and arranger, JON PICKOW has contributed to numerous recordings, video sound tracks, radio programs, and industrials. His arrangements are in the repertoires of the Robert De Cormier Singers, The Düsing Singers, and folk singer Oscar Brand, among others. Mr. Pickow began a professional singing career at a very young age, appearing with his mother, Appalachian folk singer Jean Ritchie, at concerts and folk festivals throughout the country, including The Newport Folk Festival, The Philadelphia Folk Festival, Fox Hollow, and Canada's Mariposa Festival. He has since produced and performed on many of Ms. Ritchie's albums. As a soloist Mr. Pickow encompasses many styles, medieval to twentieth-century, to the traditional music of many cultures. He has toured domestically and internationally with Harry Belafonte, the Gregg Smith Singers, the Robert De Cormier Singers and The Norman Luboff Choir, and has performed with such conductors as Gunther Schuller, Roger Wagner, and André Previn.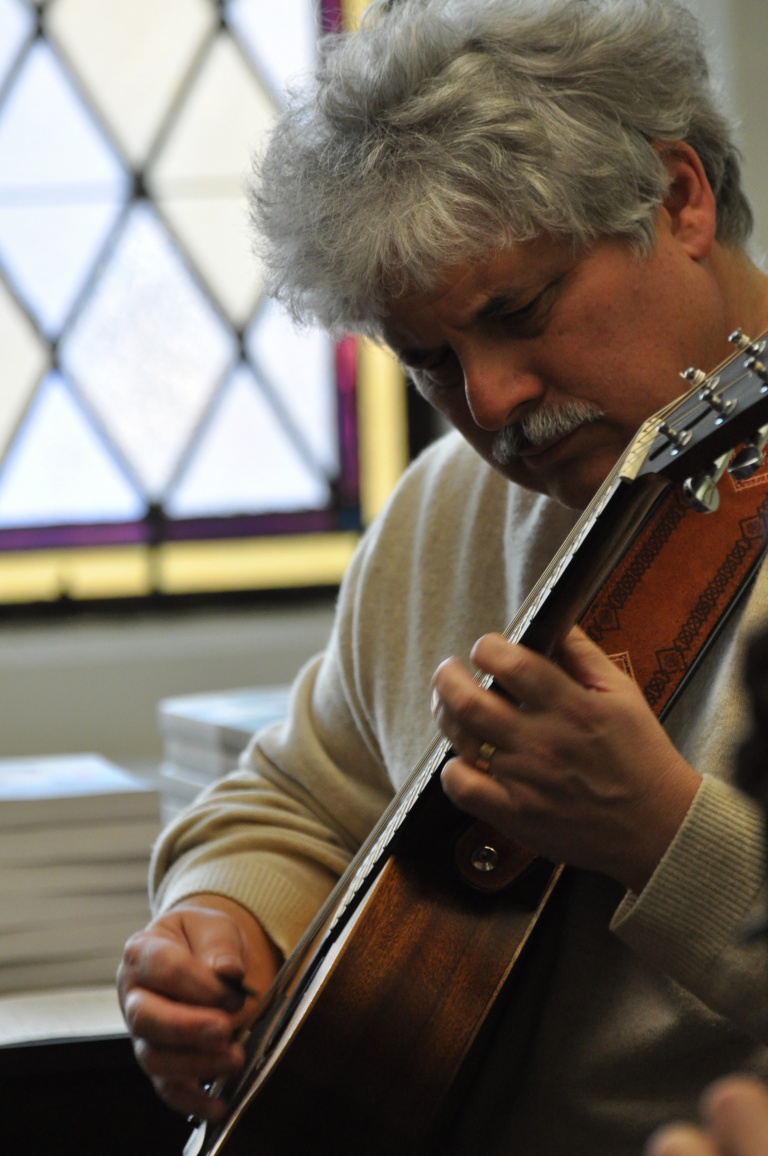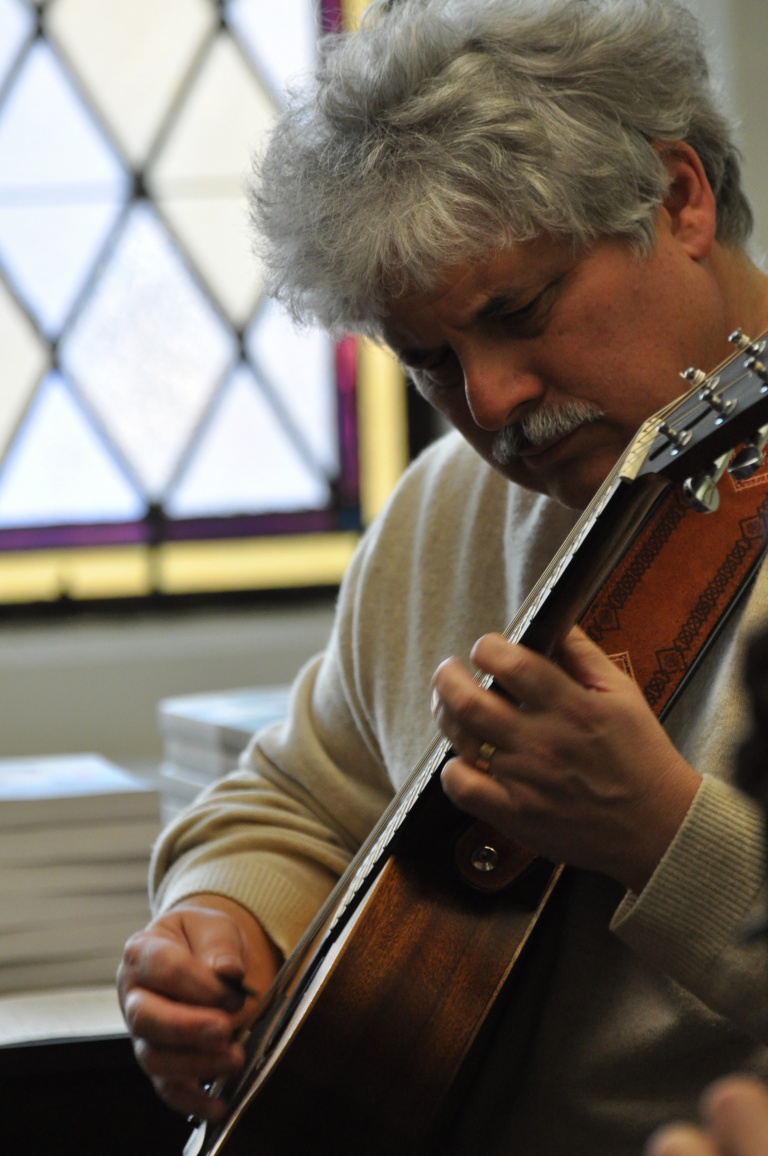 Dave Para
Guitar, Vocals
DAVE PARA took his sister-in-law's guitar to classes at the Old Town School of Folk Music in his hometown of Chicago and rekindled his childhood interest in folk music. While attending college in Cathy's hometown of Columbia, Mo., Dave lived at and helped manage the Chez Coffeehouse, a focal point of folk music in Central Missouri for 30 years. There he started accompanying several fiddlers, like master and champion Taylor McBaine, and began playing in local string bands like the Little Dixie Hoss-Hair Pullers, developing a distinctive back-up guitar style; and he met Cathy there, as well.
Dave Para studied journalism at the University of Missouri; and after marrying Cathy Barton in 1979, he worked at newspaper jobs in Western Kentucky and Central Missouri, the last as editor of the Boonville Daily News. The couple remained in Boonville after Dave left the paper to pursue his life in minstrelsy with Cathy.
Debbie Porter
Mountain Dulcimer, Ukulele
Debbie Porter
Mountain Dulcimer, Ukulele
DEB PORTER is a writer and musician who learned to sing the songs from the cotton field and east Texas oil patch almost from birth, taught by her wonderful grandmother, a sharecropper with an indomitable spirit who overcame many hardships wrought by the Depression and Dust Bowl. Deb taught herself the ukulele at age 11 to accompany these traditional songs and found her BFF-"best friend forever"-the ukulele. She worked her way through undergraduate and graduate school teaching guitar and banjo and as a songwriter in the Texas music scene. Music became a balm after her husband suffered a head injury in 1978. Shortly after that accident, Deb met David Schnaufer who taught her the dulcimer. Deb and David often performed together and frequently reveled in, not only the beauty of music but also the healing qualities for mind, body and spirit that learning to play the dulcimer and other "user-friendly" instruments can bring to ANYONE. David believed that everyone has an instrument and that you just have to find what your instrument is. Deb's mission for over 30 years has been to help folks find their voice and their instrument. She has produced eight CDs with two of these—Dulcimers for David and Dulcimers for David, Too!--created to raise money to buy instruments for deserving young people. Deb's CDs cover a wide range of styles including her most popular recording, Sentimental Journey, a collection of WWII tunes performed on dulcimer, ukulele, and harp guitar. One of her original songs, "Hard Driving Rain", won the Walnut Valley Festival songwriting competition in the ballad category. Deb's DVDs on learning dulcimer and ukulele are unique and have been used nationally and internationally by folks who may not live near or even know of another player or teacher. Her latest book/CD- Treasury of Tunes for Mountain Dulcimer- has over 50 tunes arranged from beginning levels through advanced. She has taught dulcimer, ukulele, singing, and yodeling (a subcategory of singing) at festivals across the country. Her mission continues to bring the healing joy of music to students and to local music groups.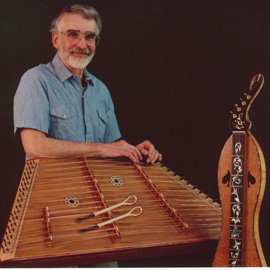 Sam Rizzetta
Hammered Dulcimer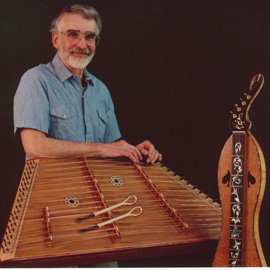 Sam Rizzetta
Hammered Dulcimer
SAM RIZZETTA: The scenic Shenandoah Valley and mountains of West Virginia are home to a rich musical heritage. When Carrie, my wife, and I moved east in 1968, it seemed a perfect area to enjoy the beauty of nature, learn music within the Appalachian tradition, and pursue my lifelong fascination with stringed instruments. Today, our shop and home sit between two streams on ten wooded acres, where the cardinals, hawks, deer, wild turkey, cats, and fish are interrupted only occasionally by the sounds of woodworking tools and dulcimer music.
Music captured me at a very early age. My uncle Earl Nott from Montana would occasionally visit us in Illinois where I grew up. As a child I would sit on the floor at his knees for hours while he played the banjo. I couldn't imagine anything more wonderful. When I was old enough to be trusted with tools, I used my father's basement workshop to build crude banjos and guitars. I am certain that the instruments and my playing were awful, but I was persistent. A passion for art eventually lead to adding carving and mother-of-pearl inlay to my instruments.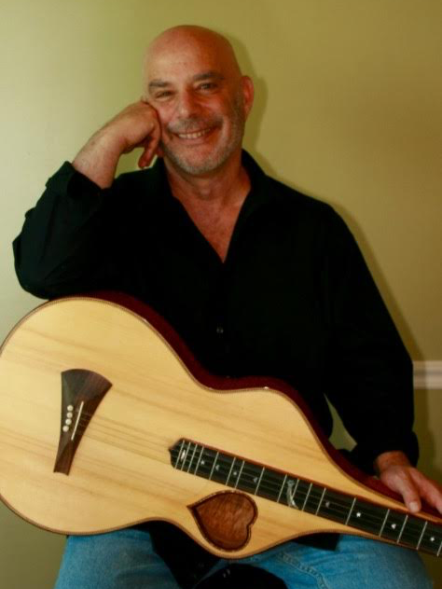 Kevin Roth
Mountain Dulcimer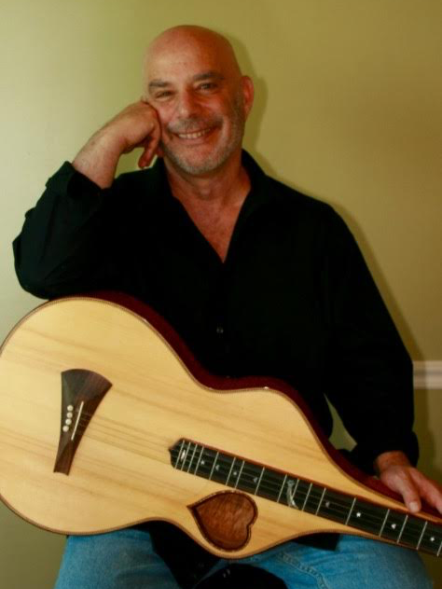 Kevin Roth
Mountain Dulcimer
KEVIN ROTH was a child prodigy, playing the pianoby ear from the age of three. At thirteen he discovered the mountain dulcimer and fell in love with its sound and peaceful quality. "I first saw the dulcimer at a meditation gathering. It was love at first sight. The simplicity of sound, the elegance in the hourglass shape cedar and walnut woods, as well as the heart-shaped sound holes announced itself as my musical soul mate."
Although the traditional music of the dulcimer is simple, Kevin's musical background and interests ranged from Peter, Paul and Mary, to jazz,classical, and world music. He followed his calling and developed a style of dulcimer playing completely his own. "My generation was more rock and roll, but I tended to lean always towards the more thought-provoking 'confessional' type artists. I had played the piano by ear since the age of three, and studied voice at about the age of twenty. My voice teacher told me at my first lesson 'Singing is emotional, physical, mental and spiritual.' She was right. That philosophy and truth stuck with me my entire life."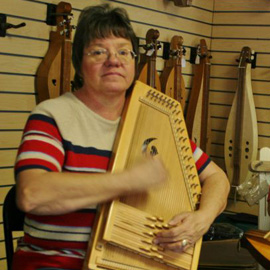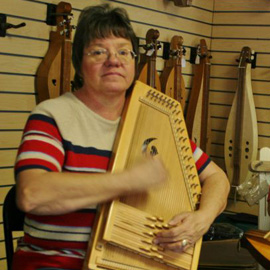 Toni Sager
Autoharp
TONI SAGER has been playing the autoharp for since 1994, after getting an Oscar Schmidt as a Christmas present. She had seen a lady playing one at the Fraley Mountain Music Festival at Carter Caves State Resort in Ky. and fell in love with the instrument. Toni mostly plays chord style as she plays along with husband Gary, who plays the mountain dulcimer. She has taught beginner workshops at several regional festivals. She really enjoys getting folks started on the autoharp. Toni and Gary have done occasional performances at several dulcimer festivals. They reside in Waverly, Ohio where they own "Prussia Valley Dulcimers Acoustic Music Shop".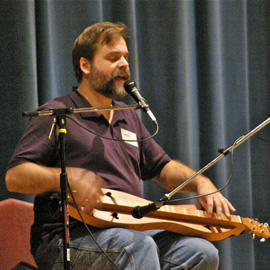 Stephen Seifert
Mountain Dulcimer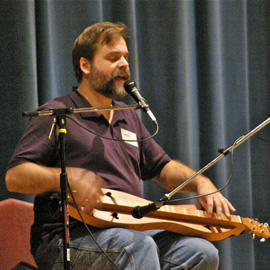 Stephen Seifert
Mountain Dulcimer
STEPHEN SEIFERT's teaching and playing has made him a favorite with dulcimer players all over the country since 1991. In that time, he's been a featured performer at hundreds of dulcimer festivals and other music events including Kentucky Music Week in Bardstown, KY, Dulcimerville in Black Mountain, NC, the Augusta Heritage Center in Elkins, WV, the John C. Campbell Folk School in Brasstown, NC, the Ozark Folk Center in Mountain View, AR, Stringalong near Milwaukee, WI, the Walnut Valley Festival in Winfield, KS and The tono American Music Festival, in Tono, Japan.
Stephen has been a dulcimer soloist with the Nashville Chamber Orchestra, now know as Orchestra Nashville, since 1996 and is featured on their Warner Classical recording of Connie Ellisor and David Schnaufer's Blackberry Winter, a concerto for mountain dulcimer and string orchestra. The piece continues to be in regular rotation on many classical stations around the U.S. (The recording album is titled "Conversations in Silence" and can be sampled and purchased on iTunes.) Stephen most recently performed this piece with the Charlotte Symphony Orchestra, the Tucson Symphony Orchestra, and the Montpelier Chamber Orchestra.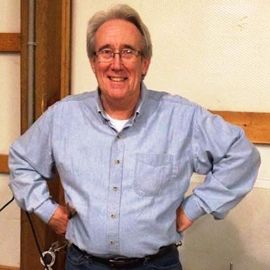 Danny Shepherd
Hammered Dulcimer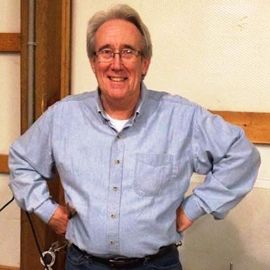 Danny Shepherd
Hammered Dulcimer
DANNY SHEPHERD has been a performing musician for over 45 years. During his early years as a drummer he joined the band at school and played in local rock bands. While attending Austin Peay State University in Clarksville, TN he received his draft notice and enlisted in the US Army. During his 21 year career as a Military Musician he taught percussion at Armed Forces School of Music in Little Creek, VA, performed across the United States, Central/South America and the Caribbean. His final assignment was as the Enlisted Bandleader with the 79th Army Band, Ft Clayton, Panama.
He has presented dulcimer, ukulele, bodhran, and folk percussion workshops at the Kentucky Music Educators State Conference, Kentucky Music Week, Yellowbanks Dulcimer Festival, Gateway Dulcimer Festival, Ohio Valley Gathering, UNICOI Dulcimer Festival, Henderson Dulcimer Festival, and Red Hill Dulcimer Festival and Heartland Festival.
Danny has performed at the UNICOI Dulcimer Festival, Kentucky Music Week, Yellowbanks Dulcimer Festival, Gateway Dulcimer Festival, Ohio Valley Gathering, Henderson Dulcimer Festival, and Red Hill Dulcimer Festival, the Derby Day Arts Festival, and the Arts Council International Festival.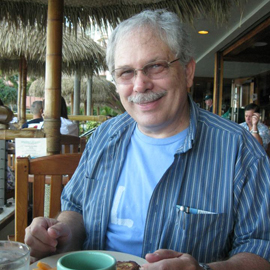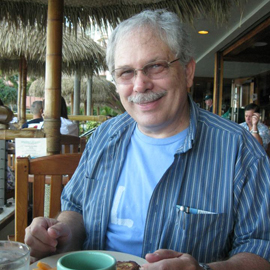 Gale Sturm
Stained Glass
GALE STURM has been a stained glass artist for many years, and creates the individually made, one-of-a-kind, stained glass name badges that are KMW treasures available to each participant at the festival. Gale has been teaching stained glass for several years at KMW and has taught this delightful art to many during the event.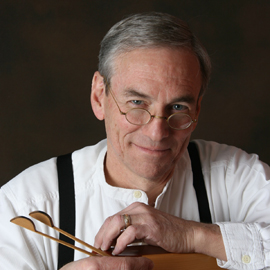 Rick Thum
Hammered Dulcimer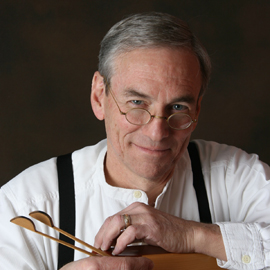 Rick Thum
Hammered Dulcimer
RICK THUM taught himself to play guitar and drums at age twelve and played the trumpet in his high school band. Throughout high school and college (B. S. Industrial Administration) Rick played in rock bands, eventually playing regularly on the upper deck of the Admiral in St. Louis. While raising his family Rick directed his church choir. Rick's interest in traditional music was sparked when he bought a hammered dulcimer on a whim and found himself in a three-piece folk band. In 1991 Rick became co-owner of a large Midwestern acoustic instrument shop. In 1994 he sold his interest in the shop to devote more time to being a traveling musician. He placed first at the 1994 Southwest Regional Dulcimer Contest and third in the 1995 National Championship at Winfield, Kansas. Rick was voted Best Performer and Favorite Teacher for several years running at the prestigious Evart Dulcimer Funfest.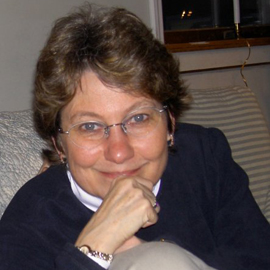 Susan Trump
Mountain Dulcimer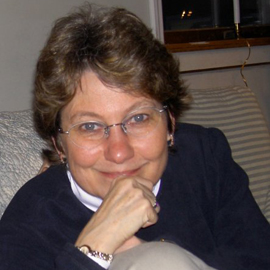 Susan Trump
Mountain Dulcimer
SUSAN TRUMP is a singer whose gentle voice and story songs you won't forget. For years, she has been winning fans with her singing, her song writing prowess and her outstanding instrumental skill on mountain dulcimer, guitar, and banjo. Her audiences use phrases like "the voice of an angel, singing songs that go straight to the heart." She has released four best-selling solo recordings, "What the Hill People Say," "Tree of Life" and "Live at Caffe Lena" which captures the excitement of one of her "sell- out" weekend performances. Her newest CD, "Songs of Faith and Hope," a collection of inspirational, uplifting songs for everyone is being touted as her best ever!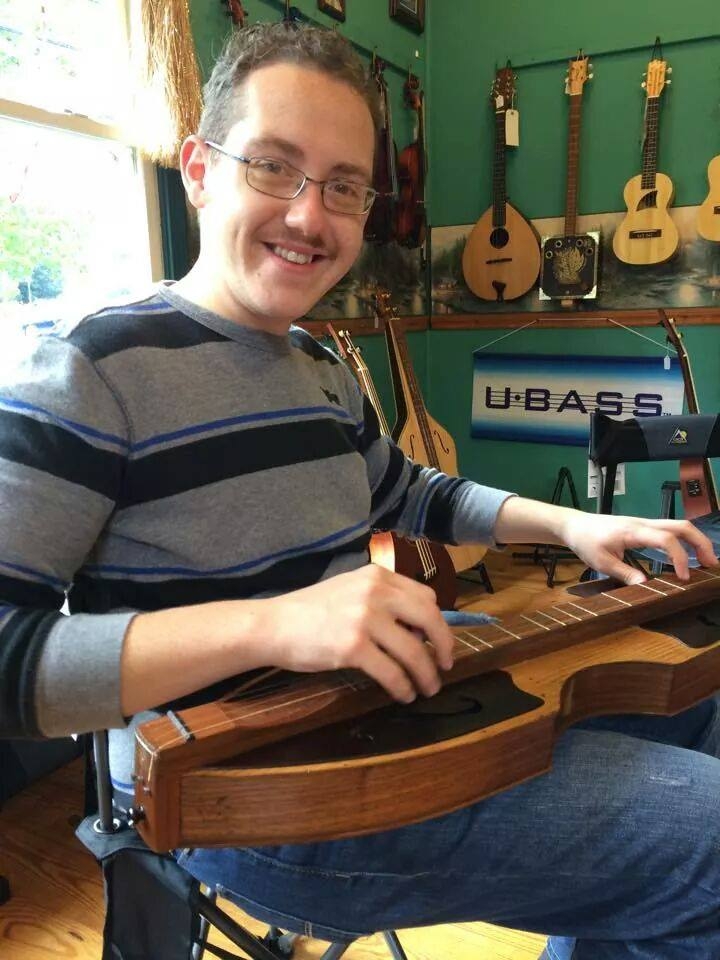 Hunter Walker
Mountain Dulcimer, Banjo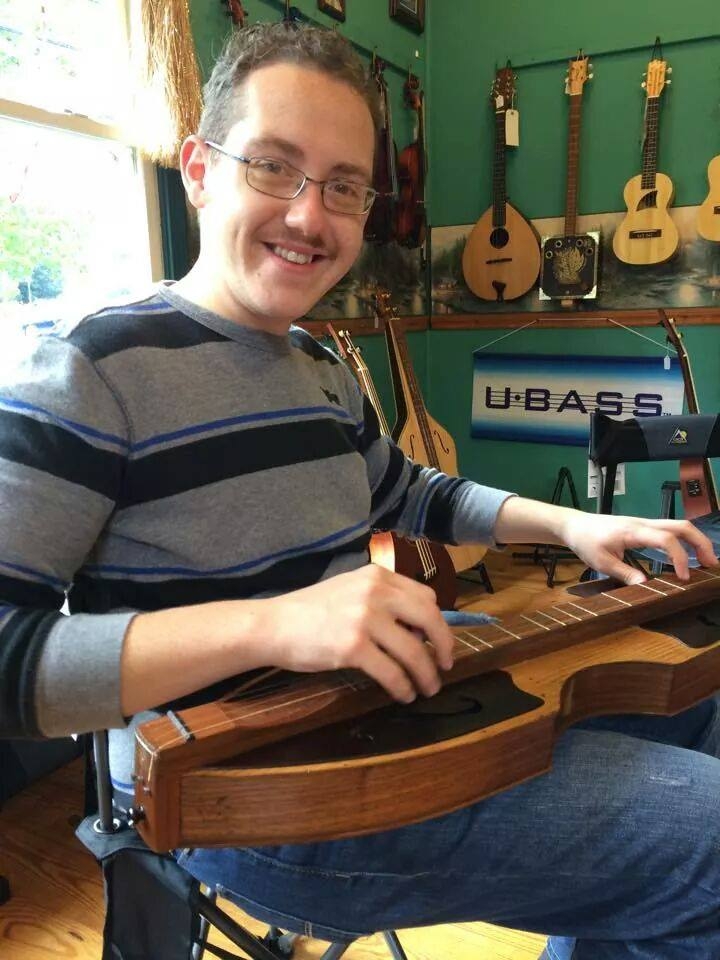 Hunter Walker
Mountain Dulcimer, Banjo
HUNTER WALKER of Beckley, WV is a performer and teacher of Old-Time Music that he aims to preserve. His virtuosity on mountain dulcimer and clawhammer has garnered multiple awards at prestigious venues. When not entertaining as part of Long Point String Band, teaching, or competing, you'll catch him jamming!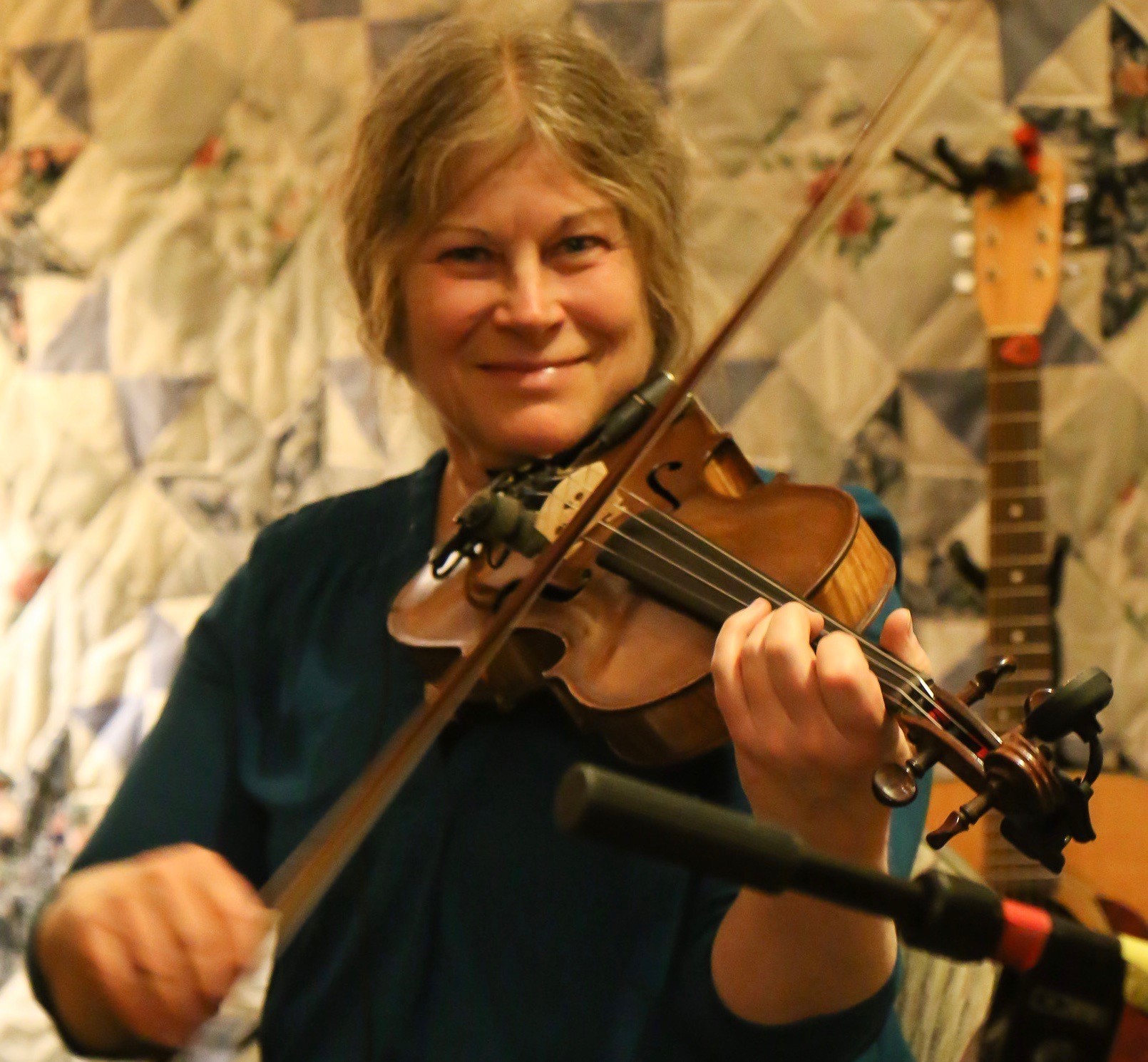 Pam Weeks
Mountain Dulcimer, Fiddle, Dance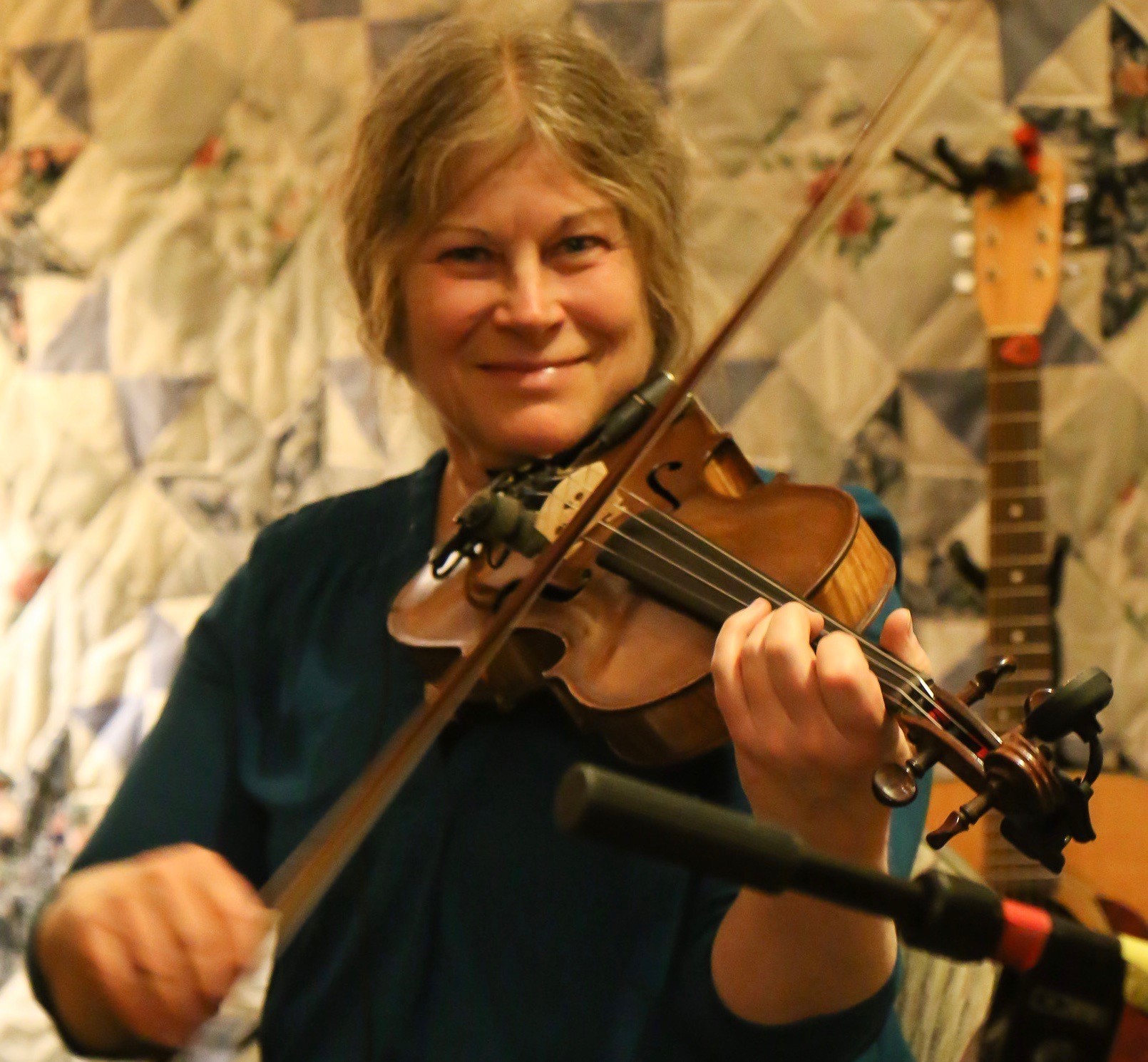 Pam Weeks
Mountain Dulcimer, Fiddle, Dance
PAM WEEKS is a multi-instrumentalist, singer, and contra dance caller from Bowdoin, Maine, who believes in sharing the "joie de vivre" of traditional music and dance with everyone! Pam is fiddler and singer in the Maine-based Cajun dance band, Jimmyjo & the Jumbol'Ayuhs, sings and plays several instruments in the folk trio, T-Acadie, plays fiddle and mountain dulcimer in the Maine contradance band, Scrod Pudding, and also performs solo or with guitar player and caller Bill Olson. She teaches private lessons in fiddle, viola, cello, guitar, mandolin, mountain dulcimer, piano, flute, sax, and voice and is a mainstay teacher at Maine Fiddle Camp, teaching mountain dulcimer, piano, cello, fiddle, and voice to all ages. Pam is an accomplished tunesmith and has composed scores of tunes, from lively jigs and reels, to entrancing airs and beautifully flowing waltzes. Some of them can be found on her two solo recordings, "Waiting for the Perseids" and "The Trestle Bridge".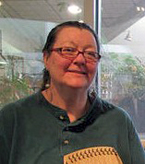 Tish Westman
Bowed Psaltery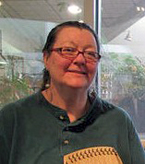 Tish Westman
Bowed Psaltery
TISH WESTMAN has been a builder and player of the Bowed Psaltery since 1997. She also builds and plays the Mountain Dulcimer. Tish has taught one or both instruments at several music festivals such as Spring Augusta, Coshocton Dulcimer Days, Fort New Salem Dulcimer Festival, Patty Fest, Mt Dora Auto Harp and Dulcimer Festival, Kentucky Music Week, Ohio Valley Gathering, Folk College and many others. She has performed many places but most famous would be Mountain Stage and Tamarack. Winner of the Mid-East Regional Mountain Dulcimer 2007, 2nd place for West Virginia State. Singer and songwriter.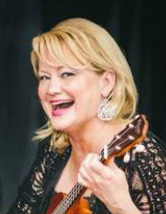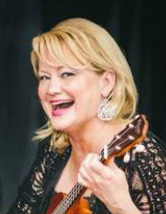 Trish Wileman
Vocals
TRISH WILEMAN, acting and singing from the age of six, has played leading roles in theater, opera, oratorio, and musical theater performances from St. Petersburg, Florida to Washington, DC. Favorite roles include Papagena in The Magic Flute, Marian in The Music Man, Guinevere in Camelot, and concert performances of Sharon in Fininan's Rainbow and Comfort O'Connell in No Strings. Her directing credits include Arsenic And Old Lace, Tevya & His Daughters, The Music Man, a five-year stint as the Director of Destiny in Dayton, and Artisti Affamati's debut opera Shanewis as well as the film version of Barber's A Hand of Bridge. Trish is the Director of Jim Pfitzer's one-man show, Aldo Leopold: A Standard of Change, currently on tour across the US. She has worked in opera production and arts management for Opera America, Chattanooga Symphony & Opera and Sarasota Opera, and is currently Assistant Director of Music at Signal Mountain Presbyterian. She teaches both voice and acting privately, and is a frequent judge for the NAACP vocal competition as well as other vocal contests. Call 941-330-5547 to arrange lessons

David Wilson
Mandolin, Fiddle

David Wilson
Mandolin, Fiddle
DAVID WILSON is a founder of the Undergrass Boys, a long running acoustic, fusion jam band and is also a founding member of Radio Flyer, who won the KFC/City of Louisville competition for the best new bluegrass band in 1985 (runner up was 14 year old Alison Krauss with her group Union Station). David has been seen for decades at folk and bluegrass festivals all over the U.S. and Canada. He also appears in the Billy Bob Thornton movie Crystal and is part of the soundtrack.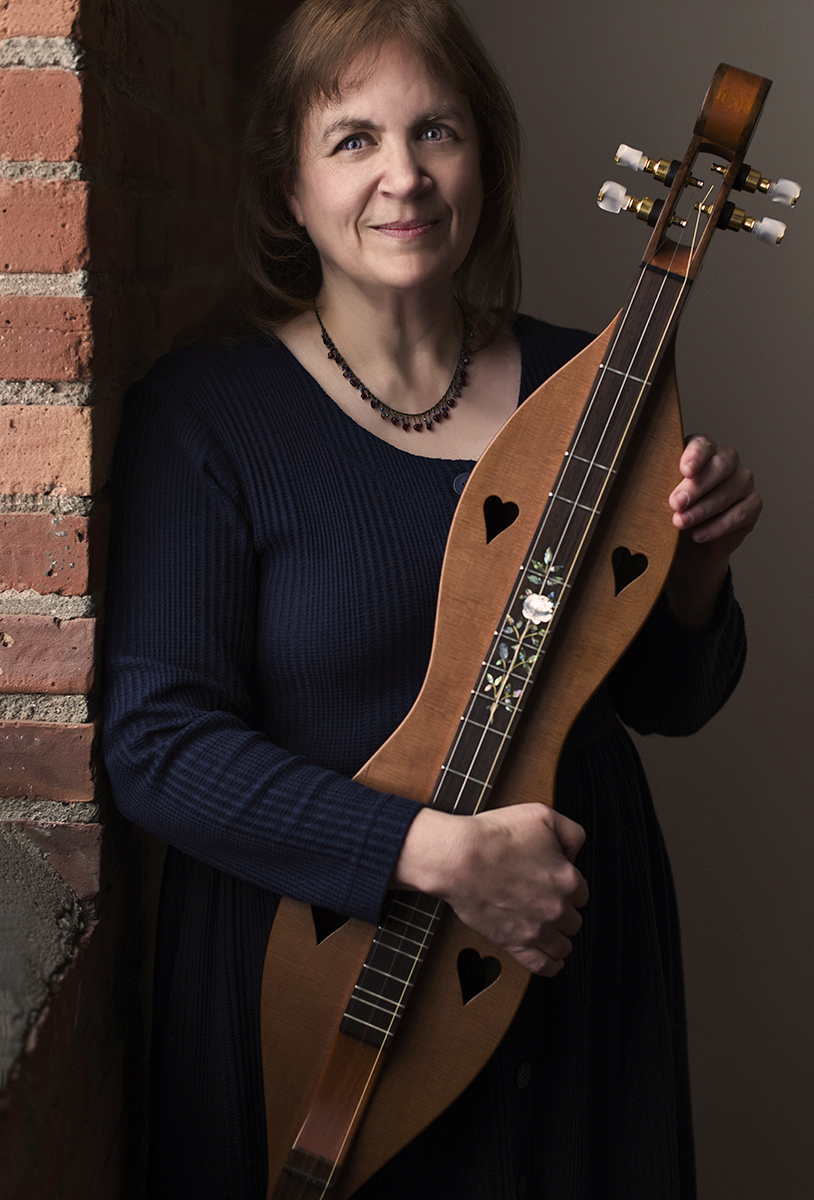 Nina Zanetti
Mountain Dulcimer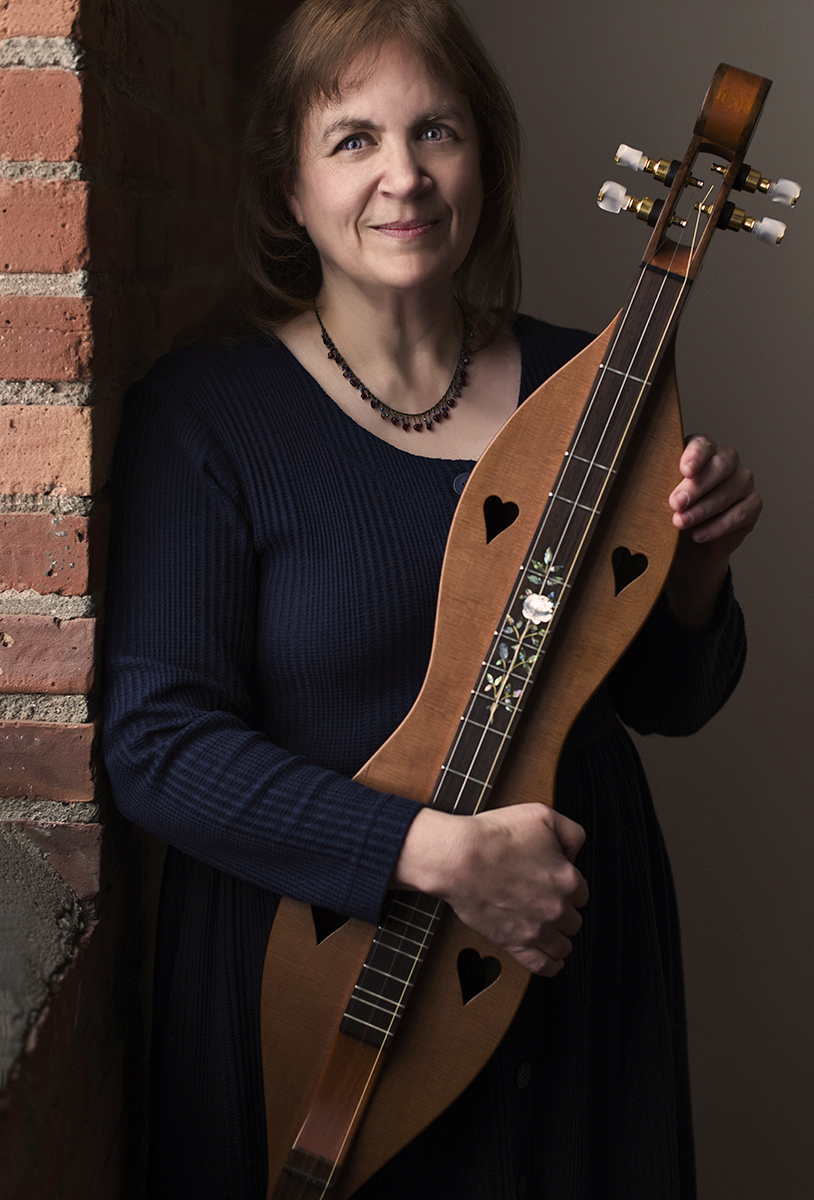 Nina Zanetti
Mountain Dulcimer
NINA ZANETTI is the 2008 National Mountain Dulcimer Champion. She comes to the mountain dulcimer from a diverse musical background, including choral music, violin, viola, piano, and shape note singing. She plays regularly at churches, historic sites, and community events and has taught at dulcimer festivals throughout the country. . She has published nine books of tablature arrangements for mountain dulcimer, and is featured on Masters of the Mountain Dulcimer Play Music for Christmas (CD). She has recorded a CD of solos and duets with Bill Collins, as well as a solo CD, Beside Still Waters.